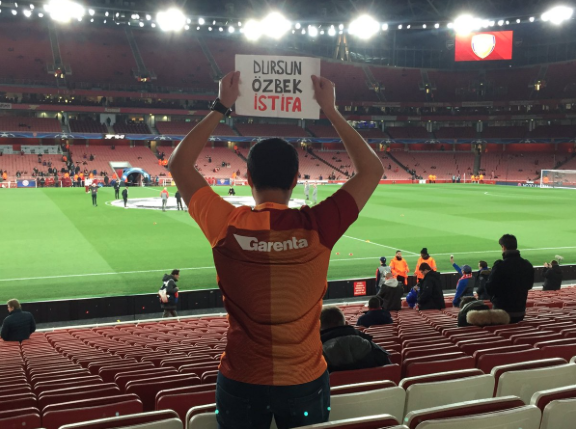 A group of Arsenal fans protested against Arsene Wenger and the board ahead of the Champions League Last 16 second-leg clash against Bayern Munich at the Emirates.
Arsenal fans "we want Wenger out" pic.twitter.com/vXrAmgL2jJ

— Football Away Days (@sportingawayday) March 7, 2017
Arsenal ended up losing the tie 10-2 on aggregate which further divided Gunners fans who support Wenger and the 'Wenger Out' brigade who as their name suggests want the French manager to leave.
See More: For Galatasaray news and everything you want to know about the club
There were also a section of Arsenal fans inside the stadium who unrelieved banners calling for Wenger to resign.
While all this was going on a lone Galatasaray fan decided to stage his own anti-establishment protest.
The Galatasaray fan held up a sheet of paper which translated to 'Dursun Ozbek – Galatasaray president – Resign', while wearing the team shirt.
The one-man protest sparked a social media storm shortly afterwards.
Much like Arsenal fans, a section of Galatasaray supporters are not very pleased with the board and have been calling for their resignation for most of the season.
Arsenal draw strong support from the Turkish community in London who are predominantly based in North London. Could we see a Wenger Out banner at the Turk Telekom Arena next?