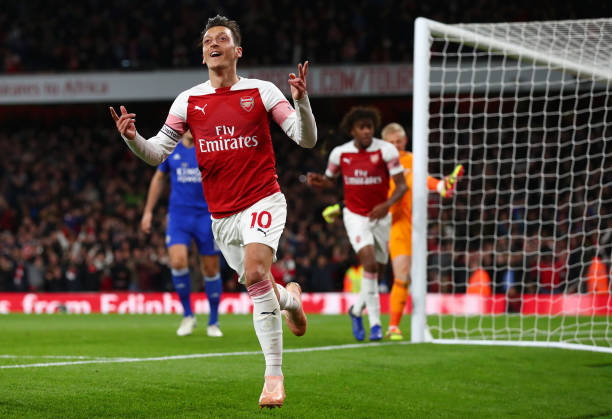 Arsenal star Alexandre Lacazette recently sent out an Instagram post declaring himself the real No 10 which probably did not go down well with Mesut Ozil.
Ozil saw the funny side of it all responding with a photo on Instagram appearing to wrestle Lacazette – perhaps a metaphor for him fighting for his shirt.
The playmaker of Turkish origin made it clear in his caption that the No 10 is his.
Arsenal fans will probably be pleased to see the team in high spirits having banter with each other.
The team has built up a great run of form going 16 games in all competitions without defeat.
See More: Watch Popstar Serenade Arsenal Star Mesut Ozil A Personal Show
The photo also showed that both Ozil and Lacazette were in team training ahead of the Bournemouth game on Sunday.
Both players are likely to start or at least make the matchday squad.
Ozil has been named captain for the past few games and could end up keeping the armband over the weekend.
The 30-year-old has enjoyed the week off as he did not take part in international football over the break.
Ozil has four goals and one assist in all competitions this season for the North London outfit.