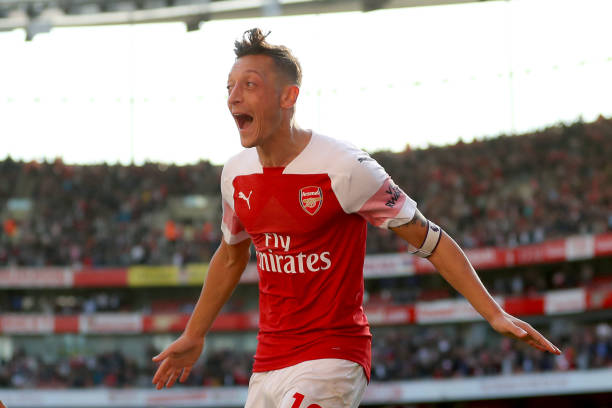 Crystal Palace ended Arsenal's 11 game win streak after holding the Gunners to a 2-2 draw at Selhurst Park in the Premier League on Sunday.
Mesut Ozil started for the North London outfit but the main talking point as far as he was concerned was his reaction to being subbed off for Danny Welbeck in the second half.
Ozil threw his gloves on the floor and looked frustrated by the decision.
Arsenal fans gave a mixed response to Ozil's glove incident with a range of views from those supporting his action to praising Emery for making the call and criticism.
We took a look at how Gunners supporters reacted to the incident on social media.
See More: Watch Graeme Souness Rips Into Arsenal Star Mesut Ozil In Rant Following Crystal Palace Draw, Mocks Substitution Incident
Oh dear. Ozil shows frustration at being replaced by Welbeck by throwing his gloves to the ground. Not good to see even if you don't mind a bit of passion. Could be interpreted as a sign everyone wants to play for Emery. Or, rather more likely, an unnecessary show of petulance

— Layth (@laythy29) October 28, 2018
I'll go with wanting to play and not petulance especially with the current win streak going on at all comps within the team. Get grafting on the pitch for the squad or get comfy on a seat next to Steve Bould….

— Mr DJ (@ExpatGoonah) October 28, 2018
I like the fact he has shown frustration at being subbed

— Dave Robins ?? (@EmeryGunners) October 28, 2018
Ozil looks furious. GOOD! I like a manager who isn't scared to upset people. UNAI EMERY'S RED AND WHITE ARMY

— ⍲ (@RedTyler21) October 28, 2018
Mesut Ozil upset at being subbed….NOW I know the Emery Evolution of Mentality is hitting home with players no matter their wage packet or name status.#PlayHardOrGetSubbed

— Mr DJ (@ExpatGoonah) October 28, 2018
Ozil not happy, but he didnt perform. This is not Arsene.

— WooFeR*AFC* (@w0oferrAFC) October 28, 2018
Ozil has four goals and one assist in 10 appearances for the Gunners in all competitions.
The draw closed the gap with Premier League leaders Liverpool to just four points. The Gunners will be able to reduce the difference to just one point if they beat the Reds next week at the Emirates.