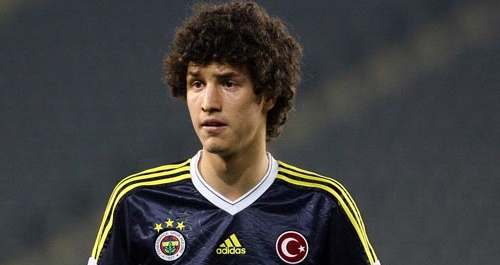 Salih Uçan will be difficult to miss in the Serie A next season and not just because he'll be sporting the biggest afro in the competition. The rising star is regarded as one of the brightest prospects in Turkish football and has had a meteoric rise over the past few seasons.
Uçan was born in the popular resort town of Marmaris and kicked off his career with local side, Marmaris Beledyespor however, it wasn't long before Bucaspor snapped him up for 30,000 TL aged just 14.
The young midfielder went onto to become the poster boy of the recently setup Buca academy.
The Izmir based club have invested heavily in restructuring and directing efforts towards developing one of the countries largest and most sophisticated football development centres.
Established in 2007, the academy's grounds stretch across 80,000m2 of land and include facilities for teams ranging from the U-8 to U-18 age groups. Buca Genç have also established football schools in the surrounding regions of Izmir including the districts of Merkez, Şirinyer, Evka, Gürçeşme, Bornova and Torbalı.
Uçan excelled at Bucaspor and it wasn't long before he started attracting interest from the likes of Villareal, Manchester City and Rubin Kazan. However, it was Fenerbahçe who put in a €1.5 million offer and ended up signing him on a five-year contract in 2012.
The transfer to Fenerbahçe raised fears that Uçan's progress could end up being hindered. The Yellow Canaries don't have the best reputation when it comes to the development of young Turkish players and there was a concern that he could end up fading away into obscurity in the reserve side.
Uçan soon put these suspicions to rest after breaking into the team and scoring three times in 10 league appearances.The attacking central midfielder has wonderful first touch, isn't afraid to take a player on and possesses the creativity to cause the most miserly of defences problems.
Turkish U20 national team manager Feyyaz Uçar underlined what an achievement it was for Uçan to break into the Fenerbahçe senior side in a recent interview with the Turkish Football Federation.
Feyyaz said, "Up till now Fenerbahçe haven't had a policy for playing younger players.
"For a 19-year-old player to do as well Salih has at Fenerbahçe and in European competition really sets a great example.
"Just goes to show what our young talents can do if given the chance." 
Uçan also shone in the Europa League, playing seven times including the second round, Last 16, quarter finals and semi-finals. The 20-year-old was so impressive that UEFA.com rated him as one of the future stars of European football.
The official UEFA website gave Salih a glowing report for his Europa League exploits: "Uçan figured in all but one of the Turkish team's knockout games, netting a crucial goal as they overcame FC Viktoria Plzeň in the round of 16.
"Still a teenager and boasting enviable vision, he looks set to become a fixture in the Fenerbahçe midfield for years to come." 
Uçan was also described on the same website as being one of the Europa League's four rising stars: "With goals to his name in domestic and European football already, the teenaged midfielder couples his enviable vision and skill with a penchant for the unexpected."
The Turkish international made a total of 26 appearances for Fenerbahçe in his debut season and was one of the stand out players in the Canaries cup run which saw them lift the Turkish Cup for the second year running.
Uçan wasn't as fortunate this season, Ersun Yanal replaced Aykut Kocaman as manager and wasn't prepared to give the less experienced members of his squad a regular place in the team. The 20-year-old still managed to make 16 league appearances and score twice but he didn't feature as much as under Kocaman.
Roma fans may have been surprised that the club shelled out a €4.750.000 fee to loan a Fellaini lookalike for two-seasons but the 20-year-old comes with a Turkish league title, Turkish Cup trophy and a Europa League semi-final under his belt. Uçan established himself as a key player in U20 Turkish World Cup team and is now a member of the senior international squad.
The Giallorossi have obviously taken a risk with Uçan, you can count the number of home grown Turkish talents to leave the country and become a success abroad on one hand but this rising star is more of the Arda Turan mould as opposed to Tuncay who famously flopped in England with badly advised moves to Middlesbrough and Stoke City. Uçan will benefit from training with some of European footballs most highly rated midfielders at Roma and their coaching staff have a far better record working with and developing young players than the clubs he has played at thus far in his career.
Despite Turkey having 75 million people and the youngest population in Europe, the country has lacked large scale football development institutions like the Clairefontaine system in France, the Cantera's of Spain and the academies of Germany.
The primary problem in terms of youth development in Turkey is the lack of qualified coaches. Turkey lags behind European footballs powerhouses when it comes to coaching. Spain has 12,720 UEFA A license coaches, Germany has 5,500, England has 1,161. Turkey has an estimated 300 UEFA A license coaches.
Roma have signed a real diamond in the rough, with a bit of polishing the Giallorossi could have themselves a bargain in two-years time when they have the option to activate Uçan's €11 million buyout clause.
Do you think Salih Uçan will be a success at Roma? Share your thoughts in our comments section below