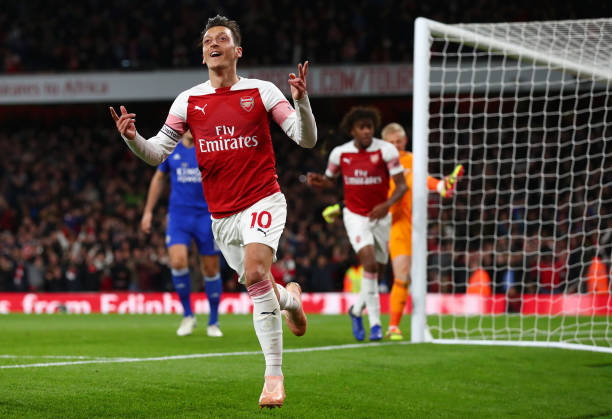 Arsenal suffered a 1-0 defeat against West Ham at the London Stadium in the Premier League on Saturday.
Mesut Ozil was expected to make his return after missing the past two league games with a knee injury.
The playmaker of Turkish origin has made a recovery and was training with the team this week.
Ozil was declared fit and ready for duty but was left out of the match day squad by head coach Unai Emery.
Emery announced Mesut Ozil has missed out on Arsenal's Premier League clash with West Ham because: "The players here are better for the match today." [Mirror].
Most Arsenal fans did not appear best pleased with Ozil not being included in the matchday squad considering he was training this week after recovering from his knee injury.
Remind me why Ozil has been frozen out of our team? Tell me who is capable of unlocking defences and making our side tick…? #COYG

— Gunners.com (@Gunnersc0m) January 12, 2019
What exactly is the system that Ozil doesn't fit in?

— i.am.eletrick©️ & friends (@TallAsHerEyes) January 12, 2019
People keep telling me that Ozil doesn't fit into Unai's plans.
Okay but have you considered that his plan might be daft ?

— Iyana Paja Skip Bayless (@bolu_ay) January 12, 2019
Thing is, arguably, there's no conceivable "tactical decision" that legitimately puts Mesut Ozil outside a list of 18 players for any team in the world.

— James Yorke (@jair1970) January 12, 2019
No Ozil in the squad and club confirm he is not injured. Surely they are trying to force him out this month, otherwise none of this makes sense.

— PB (@OliPriceBates) January 12, 2019
This really can't continue. #Ozil

— Darren (@DarrenArsenal1) January 12, 2019
When you see Aubameyang & Lacazette both starting against West Ham, but Ozil is not in the squad. ??? pic.twitter.com/xRFCvnB5iq

— Lacazettes (@Lacazettes) January 12, 2019
Ozil trained all week. Just not included in the squad for an away game. Something's gotta give here.

— arseblog (@arseblog) January 12, 2019
Imagine if Emery had been able to bring Ozil on with 30 minutes to go and Arsenal chasing an equaliser…

— James Benge (@jamesbenge) January 12, 2019
If you start Laca and Auba, you must play Ozil, it's really very simple

— J Nicholas (@EmbyMby) January 12, 2019
You can have all the good strikers but if you don't provide for them they won't always score. Team lacking creativity for a month. Emery needs to re introduce ozil even if he doesn't work hard but can create you few good chances in games. It's becoming very boring

— Osman (@OsmanZtheGooner) January 12, 2019
Has he got a point?
Not an away win since Bournemouth in November. Ozil has only played 65 minutes away from home since Palace draw. That may be a coincidence…

— James Benge (@jamesbenge) January 12, 2019
Is Kroenke the real problem?
If you start Laca and Auba, you must play Ozil, it's really very simple

— J Nicholas (@EmbyMby) January 12, 2019