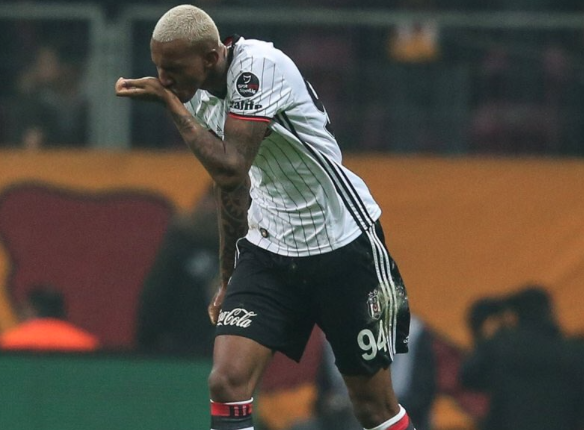 Revealed: Mourinho admired £22m Brazilian target since he was Chelsea manager
Benfica ace Anderson Talisca recently revealed that Man United boss Jose Mourinho has expressed an interest in him.
Talisca also underlined that Mourinho has actually wanted him for a long time.
The star midfielder was asked by Globoesporte about Jose Mourinho and interest from Manchester United: "That is a question I can not give an answer to just yet.
"I cannot deny there is interest but what happens next depends on Benfica and my representatives. 
"There will be news on this soon. 
"Look every player dreams of playing under him [Jose Mourinho].
"Mourinho wants me, he has wanted me for a long time and I am an admirer of his work.
"I had a good season so we will see what happens." 
We did a bit of digging and it turns out Mourinho did indeed praise the Brazilian attacking midfielder as far back as 2014.
Mourinho tipped Talisca as a player who will end up in the Premier League once he gets his work permit.
Speaking to Portuguese broadcaster TVI24 [via Daily Mail] in 2014, Mourinho said: "I think Benfica hired well. They say Talisca is unknown, but he is only so unknown because he's only not playing in England because he doesn't have a work permit. If he had one, he would be here!
"There were many English teams, great teams and important, that wanted him. Moreover, there were those who wanted to sign him, even though he could not play for now.
"They wanted to sign him, put him in a minor league [on loan] and hope that eventually he came to be selected [for Brazil's national team], and would consequently then get the work permit."
Talisca is currently on a two-year loan at Besiktas from his parent club Benfica but he does have a £22 million [€25m] release clause.
Mourinho's prediction almost came true last summer when O Jogo reported that Liverpool had reached an agreement to sign Talisca.
Another of Mourinho's predictions also came true, Talisca's work permit issue came back to bite him.
Per the source, the deal fell through after he failed to gain a work permit.
Talisca was outstanding for Besiktas this season scoring 17 times and providing six assists in all competitions.
The Black Eagles ended up winning the league title for the second season running and booking a place in the Champions League.