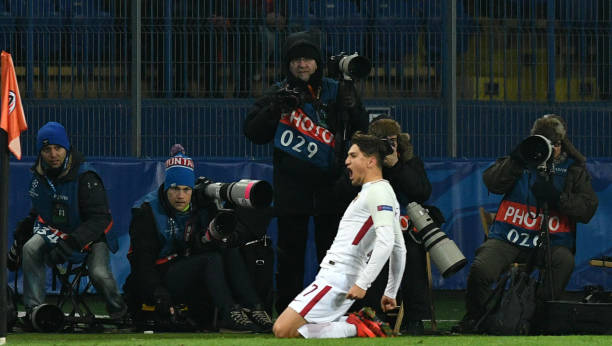 Riise won the Champions League with Liverpool in 2005, before going on to spend three years at Roma, and the former Norway left-back spoke of his 'affection' for both clubs.
"These clubs and fans mean everything to me," he told Romanews.eu.
"I was connected to them 100 percent and gave them my all. Best memories? With the Reds, certainly the Champions League we won in 2005.
"With Roma, the most beautiful thing was playing with a [footballing] 'god' like Francesco Totti, but if I had to choose a moment then my goal against Juventus [in 2010].
"I'm really proud that one of my former teams will definitely be in the Final. I'm affectionate about both clubs and I don't want to choose one over the other.
"I hope there will be two great games, with players who respect each other. The fans will create the perfect atmosphere.
"Klopp? He's doing a good job. He had some difficulties at the start, but now the players are responding to his ideas and are playing extraordinary football.
"Salah? He'll certainly be the man to keep an eye on in both games. He's in an incredible run of form and Roma will do well not to give him any space. Kolarov will have to do a great job.
"Roma's comeback against Barca like Istanbul in 2005? Yes, Roma did something very similar!
"It was an incredible fame to watch. The Curva Sud was on fire. Di Francesco's role? He's certainly faced some difficulties in the League, but now it's as if the players follow him more and the team seem stronger.
"However, we'll have to fight for the title and get closer to the top. Kolarov? I've always been a fan. He really is a great player.
"I was more attacking than him and I liked to run more, especially going forward. I remember when he played at Lazio and people often compared us.
"Maybe he could be more aggressive and tougher, but he really is a great player. I'd have liked to play with him at Roma.
"Roma and Liverpool the favourites? I think it'll be very close, there are no real favourites. Roma have the return leg at home and this could be an advantage.
"Still, both teams have the ability to score lots of goals. It'll be very difficult for Roma at Anfield. European nights there are special.
"Have I heard Totti since the draw? No, but I absolutely have to call him and ask him for a ticket! I want to go back to Rome and watch the game at the Olimpico."