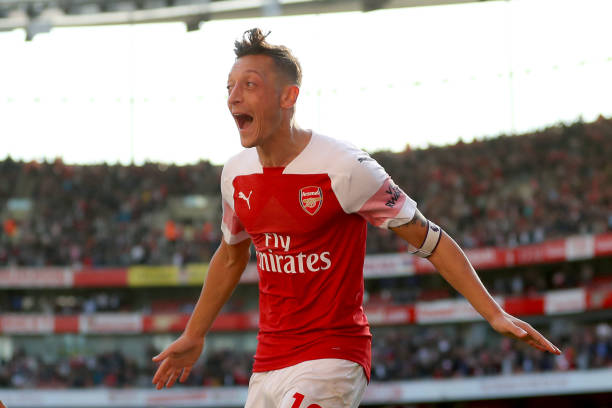 Arsenal extended their winning streak to 10 games after coming from behind to beat Leicester City 3-1 at the Emirates Stadium.
Mesut Ozil was the star of the show scoring the equaliser, playing a key role in the second goal and providing Pierre-Emerick Aubameyang with the assist for the third.
Ozil took his season tally to four goals and provided his first assist of the season in what was an outstanding performance.
See More: 'Proud Captain' Mesut Ozil Reacts To Arsenal Playing 'Sexy Football' Against Leicester City
It was hard to pick a single moment to highlight but this was really special. Feast your eyes on this!
They told Arsenal fans… Be careful what you wish for
?⚪️ Arsenal fans pic.twitter.com/1eKxm3X2Oo

— Turkish Football (@Turkish_Futbol1) October 22, 2018
We took a look at how Arsenal fans reacted to Ozil's display on social media after the match.
As you can probably imagine he was highly praised.
What a goal… Mesut that was beautiful Abi… How can anybody question this master. We are blessed to witness this geezer

— Mystic Memz (@Durchiga) October 22, 2018
Rarely happens anymore because they're going extinct, but there's nothing quite like a pure no. 10 totally dominating a game. Ozil had everyone else on slo-mo today.

— Ryan O'Hanlon (@rwohan) October 22, 2018
You don't need to be a football fan to love Ozil. You need to be a human being.

— Mohamed ElNneny (@ElNnenyM) October 22, 2018
Mesut Ozil gets a standing ovation for his performance. Arsenal's best player tonight by a clear distance #ARSLEI pic.twitter.com/jYtFCXQNft

— Sean Kearns (@SeanPaulKearns) October 22, 2018
We have got our Arsenal back!

Mesut Ozil has eyes in the back of his head. He was the instigator, the artist, the creator.

This is simply stunning.

All three goals have been about Ozil and listen to this stadium now. pic.twitter.com/XQ8pySIyhn

— ARSENAL (@tomgunner14) October 22, 2018
Captain, leader, legend. pic.twitter.com/tfdJtlqwNi

— Arsenal FC News (@ArsenalFC_fl) October 22, 2018
The back-heel??
The dummy??
The silky assist??
Pure magic from @MesutOzil1088 #ARSLEI

— Dan Walker (@mrdanwalker) October 22, 2018
Ozil is the most intelligent attacking midfielder on earth

— Juninho (@Praiz_jr) October 22, 2018
Me when I see Mesut Ozil's haters saying he's lazy and overrated pic.twitter.com/L0tIIXil6z

— Lacazettes (@Lacazettes) October 22, 2018
Not just football, art @MesutOzil1088 pic.twitter.com/uEyV77tf8i

— Arsenaldirector (@afcdirector) October 22, 2018
World class performance from Ozil. When he plays like that, he's untouchable.

— Gurjit (@GurjitAFC) October 22, 2018
Is it football or art? hard to tell with Ozil!
Mesut Ozil is less a footballer, more an artist who sees time, space and the world differently to all those around him. Uses the football field as his canvas and the ball as his brush. Salvador Dali in football boots ?

— roger bennett (@rogbennett) October 22, 2018
Where Ozil belongs pic.twitter.com/ucsdLjzbPX

— Cristian Nyari (@Cnyari) October 22, 2018
Is the playmaker of Turkish origin not appreciated enough by the media?
Had KDB done what Ozil did today, you can bet your life there will be a special section on sky about how Pep has revolutionised English football and gets the best out of his players.

— P™ (@Cechque) October 22, 2018
Piers was over the moon!
Best I've seen @MesutOzil1088 play for us. Wonderful performance by a revitalised player. #afc

— Piers Morgan (@piersmorgan) October 22, 2018
Is Ozil German again now?
Ran the show and made German history at the same time ??

? @MesutOzil1088 ? pic.twitter.com/dtaQ8JJQd3

— B/R Football (@brfootball) October 22, 2018
German national team looking at #ozil performance tonight pic.twitter.com/xlJIBWhdTm

— K-lonnie (@comenzzo) October 22, 2018