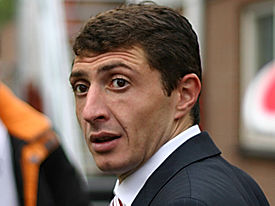 Kasımpaşa manager Shota Arveladze has stated that the current foreign player restrictions in the Turkish Süper Lig, harms Turkish football and does not improve the quality of Turkish players.
"The restrictions do not help Turkish football, it actually harm Turkish football," Arveladze said speaking to LigTV
"The rules changed to 5+3 but has the national team improved? No.
"The big teams have reacted by buying up most of the Turkish talent incase the foreign player restrictions change again. In total the top four teams have around 60 Turkish players who do not play. Does this help Turkish football?
"Would it not be better if those players were spread out across other teams in the League. It would make the league stronger, the teams would be better and competition among the players would be stronger."
Kasımpaşa face Gençlerbirliği in the ninth round of the Turkish Süper Lig this weekend. The Istanbul based side are currently in eighth place.