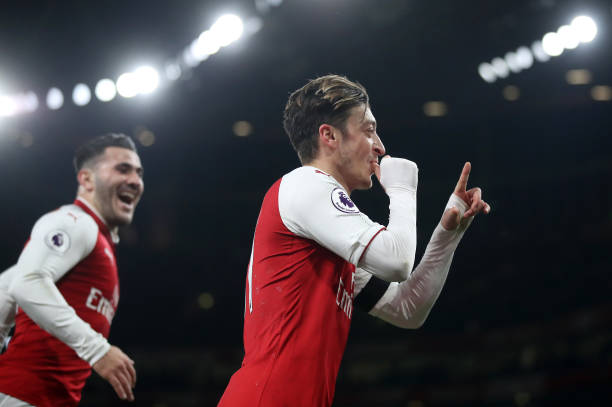 Arsenal playmaker Mesut Ozil sparked shockwaves across the world of football on Sunday evening after announcing his retirement from international football.
Ozil released a statement on his social media accounts explaining his decision in detail.
The 29-year-old revealed that racism against himself and his family played a major factor behind his call.
The past couple of weeks have given me time to reflect, and time to think over the events of the last few months. Consequently, I want to share my thoughts and feelings about what has happened. pic.twitter.com/WpWrlHxx74

— Mesut Özil (@MesutOzil1088) July 22, 2018
II / III pic.twitter.com/Jwqv76jkmd

— Mesut Özil (@MesutOzil1088) July 22, 2018
III / III pic.twitter.com/c8aTzYOhWU

— Mesut Özil (@MesutOzil1088) July 22, 2018
The 2014 World Cup winner faced criticism from the German media after appearing in photographs with Turkish president Recep Tayyip Erdogan.
Ozil was later targeted by the far-right party AfD and several other politicians and right-wing media groups.
The playmaker of Turkish origin feels he was made a scapegoat and used to push political agendas.
We took a look at how Arsenal fans reacted to the latest developments.
See More: Man City's Ilkay Gundogan Opens Up About Recep Tayyip Erdogan Controversy, Arsenal Playmaker Mesut Ozil Avoids Questions
Arsenal supporters and football fans in general rallied behind Ozil on Twitter afterward.
Sad that Ozil retired from international football, but I can't blame him. No human being deserved to be treated like that, shame in the year 2018 people still discriminate.

— Brazil Football ?? (@BrazilEdition) July 22, 2018
You've got my full support @MesutOzil1088…

Let's get this trending ?? pic.twitter.com/2YEdWJWz5i

— Chris Davison (@cdavison_afc) July 22, 2018
"I am German when we win, but I am an immigrant when we lose."

– Mesut Özil#Ozil pic.twitter.com/QY6qibYy09

— ? (@TheGoatMagazine) July 22, 2018
Ozil has singlehandedly made me more emotionally invested in the next season

— Arsenio. (@Fattcheeked) July 22, 2018
How about you blame the whole German team than just Ozil for their horrendous World Cup?! What did Muller, Werner, Reus, Draxler etc do??? Kroos had just one magical moment but apart from that in their other two losses what did he do??? Seriously this German media are fools!!

— Sebarivers (@Sebariverss) July 22, 2018
Mesut Ozil was born in Germany as was his father. He won the World Cup ?, 5 Germany Player of the Year Awards…

A man who should be a national hero has been forced into retirement after a hate campaign, unbearable racist abuse & disrespect

His crime? Turkish heritage pic.twitter.com/jtdIHbbRwB

— Turkish Football (@Turkish_Futbol1) July 22, 2018
@MesutOzil1088 Stood up for Immigrants, muslims and discrimination. So proud of you.
You gave Germany a world cup, this is how certain so called respected people in Germany ?? repay you.#NoToRacism #IstandwithMesut ? pic.twitter.com/QvIUf6mXr8

— ?⚪️Gooner Kev⚪️? (@kevdavis736) July 22, 2018
So let me get this straight…

Mesut Ozil suffered racist abuse, was told to retire from the NT and made a public enemy for taking a photo with the president of Turkey

Meanwhile, Lothar Mathaus, who lead the anti-Ozil hate campaign poses for photos with president Putin ? pic.twitter.com/MJhiNyCE6H

— Eren Sarigul (@_ErenSarigul) July 22, 2018
❌ German politician Bernd Holzhauer who called Ozil a "goat-f***er"

❌ Chief of German Theatre Werner Steer wished for the footballer to "p*** back to Anatolia." pic.twitter.com/fPu6Q8z4sK

— Eren Sarigul (@_ErenSarigul) July 22, 2018
Always had the utmost admiration for @MesutOzil1088.

Well done to him for standing up to the bullies and racists.

Those who say he shouldn't or find fault with what he's said, simply have no comprehension of the issues at hand.

— #OneInvincible (@Gooner_Echo3) July 22, 2018
Mesut Ozil https://t.co/3ESVm1AkC9

— Durchiga ℹ (@Durchiga) July 22, 2018
Imagine being born & raised in a country, representing that country with the highest honours and than made to feel unwanted because you have Turkish heritage…Standing up to racists, I am so proud @MesutOzil1088 is an Arsenal player #IstandwithMesut pic.twitter.com/AvxWbE7k6z

— Durchiga ℹ (@Durchiga) July 22, 2018
Not just Arsenal fans either.
After reading @MesutOzil1088 entire statement I have never respected him more. #Respect.

— LFC Scout Watch (@Mobyhaque1) July 22, 2018
Well I guess if there is one benefit for Arsenal it is that they no longer have to worry about Ozil missing pre-season due to international football tournaments.
Big W for Arsenal and lowkey for Ozil too. Ozil already won the biggest prize on earth with Germany, now he can sit back and watch them struggle for creativity. Arsenal gets an angry, fresh and rested Ozil under a manager focused on transition football. Ozil at Madrid form coming

— The Dreamers (@KozielloEN) July 22, 2018