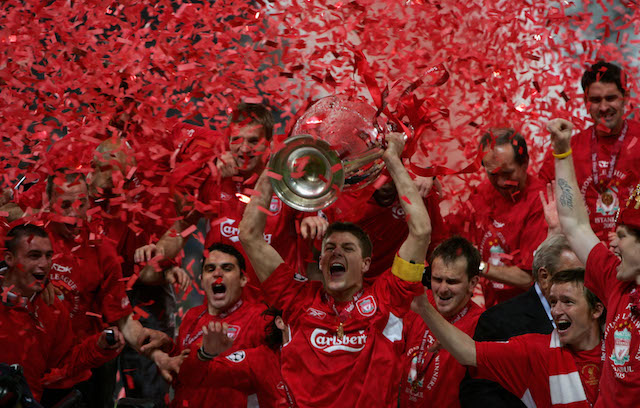 Former Liverpool striker Djibril Cisse has revealed that Steven Gerrard's half-time speech in Istanbul will live with him forever.
Cisse was part of the Liverpool side who came back from 3-0 down to win the UEFA Champions League Final against AC Milan at the Ataturk Olimpiyat Stadium.
The Reds pulled off one of the greatest comebacks of all time to win the trophy on penalties.
Gerrard scored Liverpool's first goal on the night and was the driving force behind his side's comeback. Djibril Cisse, has admitted that the former England international's words in the changing room were inspirational as well.
"I will never forget Steven Gerrard's team-talk at half-time during the 2005 Champions League final," Cisse told French outlet RMC Sport.
"[Rafa] Benitez comes into the dressing room, he does his coach speech, that we must not give up and that we need to score quickly.
"Steven gets up and asks all the coaching staff to leave the dressing room, because he wanted to be alone with just the players. All the staff left, even the physios who were giving treatment to the players.
"Stevie gets up and says that Liverpool is all he has, it is his club, all he has ever known and he does not want to be the laughing stock of the history of the Champions League.
"He says that if we respect him and love him as a captain, then we need to dust ourselves off and get back in the match.
"He scores the first goal, he gets the penalty. He has an extraordinary second half, finishing the game as a right-back. He has a crazy match – but that half-time speech will remain imprinted in my mind forever."
See More: Liverpool Agreed To Image Rights Deal Over Loris Karius Transfer, Besiktas' Plans Revealed
Interestingly, the Ataturk Olympic Stadium has not been used by any Turkish club or the national team for over a year. The stadium is due to be redeveloped as part of Turkey's Euro 2024 bid.
Liverpool are back in action this weekend when they take on Tottenham.