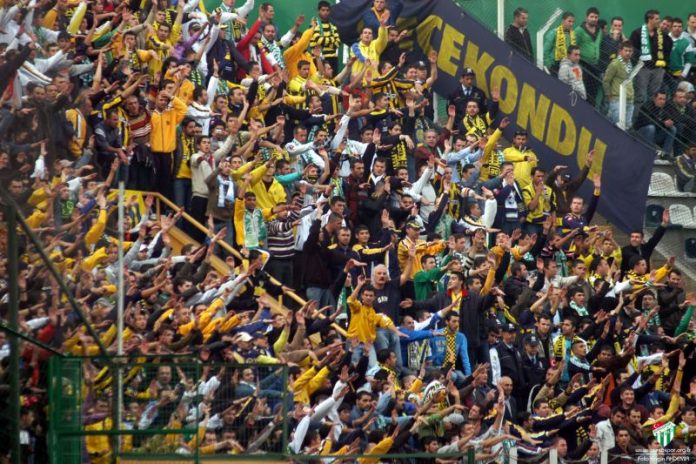 Founded: 1910
Stadium: Ankara 19 Mayıs Stadium
---
Background
Ankaragücü are based in Ankara, the capital city of Turkey. Founded in 1910 as a merger between Altinörs Idmanyurdu and Turan Sanatkarangücü they are one of the oldest clubs in Turkey. The club play their games in the Ankara 19 Mayis Stadium which they share with city rivals Gençlerbirliği. They enjoy the lion share of supporters in the city and outnumber Gençler fans to such an extent that even away games feel like Ankaragücü are playing at home. The club have notorious ultra groups, creating an intimidating atmosphere in wherever they go. The most well known being Gecekondu, which literally translates to Shanty Town.
History
Ankaragücü don't have the most illustrious of histories, however, there was a mini golden-era in the 1980's. In a fortunate turn of events for the team, during the 1980 coup d'état it was decided that the league needed a team from the capital city. Ankaragücü was chosen to represent the capital and automatically promoted from the second division into top-flight football. The very same season they won the Turkish Cup and finished runners-up the following year.
The club have been a mid-table team for most their time in the first league, during 2000-02 with manager Ersun Yanal at the helm it looked like they may finally achieve league success. Ankaragücü reached 6th position in 2000-01 and 4th in 2001-02. However, after his departure in 2002 Ankara based club went into decline, were hit by a financial crisis and fought year in year out relegation battles.
Ankaragücü looked to be over the worst of their economic problems, Ahmet Gökçek took over as chairman in 2009. Gökçek arrived making big promises claiming the team would become champion within a few years. Gökçek who had ties to another Ankara team, Ankaraspor, following relegation from the Turkish Super League he merged the club with Ankaragücü. The clubs grand plans never materialized, Ankaragücü fell into a deeper financial crisis and were subsequently relegated last season.
Interesting Facts
Ankaragücü have many rival teams including Trabzonspor, Gençlerbirligi, Kocaelispor, Denizlispor, Beşiktaş, Konyaspor and Adana Demirspor however, they have a great relationship with Bursaspor and view their green friends as a brother team. In the early 1990's Bursaspor ultra group Teksas, had a leader called, Abdulkerim Bayraktar. He went to study in Ankara, whilst in the city he started attending Ankaragücü games and started building ties between the two clubs.
In 1993 however, his life was cut short, during his military service he was martyred by terrorists. This tragic event bought Bursaspor and Ankaragücü even closer together. During the first game after his death, Bursaspor organized a tribute to him, the events which unfolded next cemented the brotherhood felt between both teams. A large group of Ankaragücü supporters made their way onto the pitch and unveiled a large banner reading, 'Our brother Abdul will never die, he lives on in our hearts'. The two supporter groups united and hundreds of Ankaragücü ultras attended his funeral. From that day on Bursaspor supporters would chant Ankaragücü's name in the 6th minute of every home game, six being significant due to 6 being Ankara's city code.
Ankaragücü supporters in return chant Bursaspor slogans at the 16th minute makr, 16 being Bursa's city code. When the two sides play each other its one of the rare occasions where ultra's from opposing teams watch a game together in a mixed environment, they bring Bursankara scarfs (a merger of the two clubs names) to the matches and create a fantastic atmosphere full of mutual respect.
Honours
Türkiye Kupasi: Winners (2): 1972, 1981
Runners-up (3): 1973, 1982, 1991
2.Lig: Winners (2): 1969, 1977
Turkish Football Championship: Winners (1): 1949
Ankara Football League: Winners (5): 1935–36, 1936–37, 1951–52, 1955–56, 1956–57
Runners-up (4): 1938–39, 1943–44, 1954–55, 1958–59