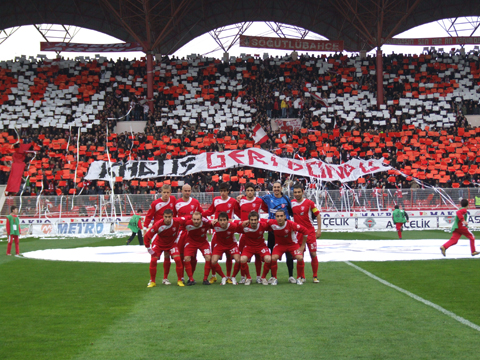 Founded: 1965
Stadium: 19 Mayis
---
Background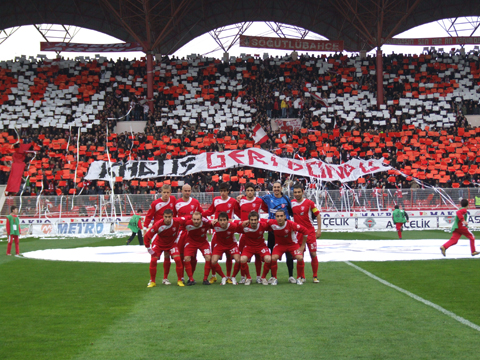 Samsunspor are a professional sports club based in the central Black Sea city of Samsun. The city has a footballing history stretching back to 1919 when, Tahir Usta founded Samsun İdman Yurdu. They were joined by Alyıldız İdman Ocağı two years later. Samsun's third club Zaferi Millî İdman Derneği, later known as Türkocağı Spor Şubesi was founded in 1923. In 1926 Alyıldız İdman Ocağı and Türkocağı Spor Şubesi united under the guidance of, Nuri Bey and established Samsunspor. However, the club became recognized as a professional football club years later in 1965 after the cities amateur teams 19 Mayıs, Fener Gençlik, Akınspor and Samsun Galatasaray Gençlik merged with Samsunspor.
The Kırmızı Şimşekler (The Red Lightning) draw most of their support from the 1,250,000 inhabitants of the Samsun province. Samsunspor have a loyal local following and are the most popular team in the city.
Samsunspor played in the 19,720 capacity Samsun 19 Mayis stadium since 1965. The grounds were renovated in 2006, making it an all covered, all seated venue. The stadium is set to be replaced by, Stadium Samsun a state of the art 30,000 seater project scheduled to be completed by 2013.
History
Samsunspor had been one of the more sucessful teams outside of the traditional big four. The Red Lightning had participated in the Turkish Super League for 13 years between 1993-2006 however, failed to win any titles during this period.
The clubs darkest hour came ,January 20 1989 when the team coach crashed on the way to an away game with Malatyaspor. Manager Nuri Asan, players Muzaffer Badalıoğlu, Mete Adanır, Zoran Tomiç and the coach driver Asım Özkan all lost their lives. Seven additional squad members were also injured. Samsunspor were unable to continue and pulled out of the league however, the Turkish Football Federation allowed them to remain in the top flight due to the unfortunate circumstances.
Interesting Facts
Samsunspor's main ultra group who go by the name, Şirinler (Smurfs) are well known for their, Flare March. Unlike their peaceful, little, blue friends the Samsun fans are a rowdy crowd. Hundreds, sometimes thousands of Şirinler meet up at Çiftlik Avenue located in the city center and walk to the 19 Mayis stadium with lit flares, turning the city red… then as any true Smurf would do, they go Smurfing in the stadium.
Honours
No major honors.