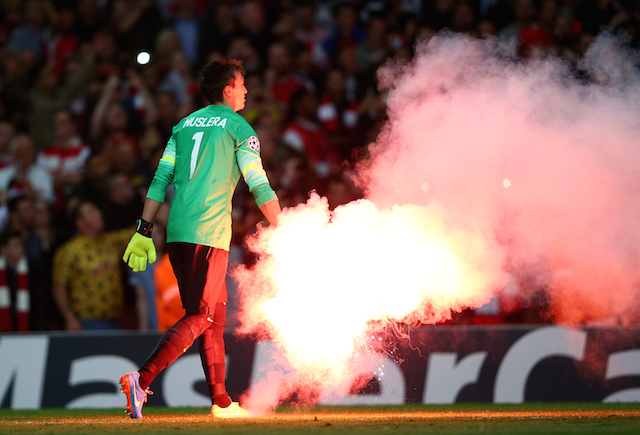 Galatsaray take on Benfica at the Turk Telekom Arena in the Europa League Round of 32 first-leg clash on Thursday.
What can Fatih Terim's men expect? Turkish-Football enlisted the help of Portuguese football expert Tom Kundert from the brilliant Portugoal for the lowdown on the Primeira Liga giants.
How have Benfica looked this season so far and how would you describe their current form?
Benfica started the season reasonably well then went into a poor run of form which culminated with the sacking of coach Rui Vitória in early January. Since then the new coach Bruno Lage has had an incredible effect on the team. Benfica are playing very well at the moment, especially from the attacking point of view, as shown by the incredible 10-0 thrashing of Nacional on Sunday – Benfica's biggest win in a league match for over 50 years.
Ones to watch – Who are Benfica's star players?
Young forward João Félix has quickly become a big star in Benfica, and looks like another tremendous talent produced by the Seixal academy. He has superb technique, intelligence and maturity for his age and a good eye for goal, and he combines especially well with Swiss striker Haris Seferovic, who has been a revelation this season and looks a completely different player to one year ago. Midfielder Pizzi has also been in brilliant form recently, and generally, when he plays well, Benfica play well.
Strong points/weak points – what must Galatasaray beware of and what can they exploit?
Benfica's strong point is undoubtedly their attacking potency. Seferovic and Félix, supported by Rafa Silva, can be devastating on the break and have combined perfectly in recent weeks. Given that Pizzi also has his shooting boots on this season and the potent goal threat in the air from the centre-backs, it is very difficult to stop Benfica from scoring. The defence has not looked so good, though. Left-back Grimaldo is great going forward but can be suspect when defending, and on the other side right-back André Almeida is prone to mistakes. Playing in Turkey in front of such passionate fans is always a test of nerve and some of Benfica's players – most notably Rúben Dias and Andreas Samaris – can be undisciplined at times and risk a red card.
Formation and playing style – what system do Benfica usually play? Would you describe them generically as an attacking or a defensive team?
Benfica have switched to 4-4-2 since Lage has taken over, although with João Félix often dropping deep and two holding midfielders Samaris and Gabriel selected recently, it can also be described as a 4-2-3-1, especially when Benfica don't have the ball. All the big teams in Portugal have to be attacking teams by nature because they are so much better than almost all the opposition they face, but Benfica have maintained a very "front-foot" identity even in recent big games against Porto and Sporting so you certainly have to describe them as an attacking team.
What is the local press saying about the tie?
The press in Portugal – which is pro-Benfica as a rule – has really been playing up the new-look team since Bruno Lage became manager, and on this occasion with good reason. Benfica are looking to make a dent in this competition and while they will not underestimate Galatasaray, they will expect to progress.
What is the mood in the camp?
Confidence is sky-high. Lage has been at pains to try and keep control of any euphoria and overconfidence, and the players have been saying the right things in that regard. Whether or not that is just lip service or a level of complacency has set in we will have to wait and see. Galatasaray will ask a different question from domestic football and if Benfica don't have the right attitude in Istanbul it could be a costly mistake.
What do you think the result of Thursday's match will be?
Benfica are on fire at the moment and I think they'll get a positive result. Galatasaray 2-2 Benfica.
Our thanks to Tom Kundert. For everything Portuguese football related, follow Tom at twitter @PortuGoal1