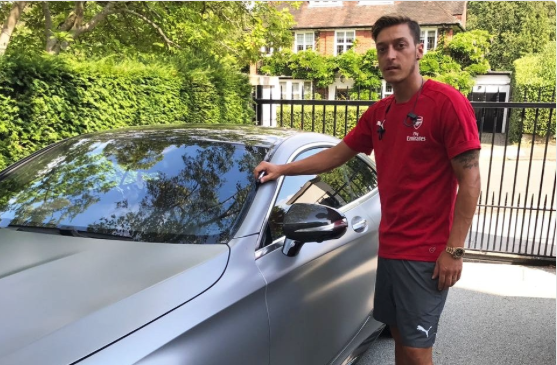 'THEO must be on a dartboard at Ozil house' – Arsenal fans react to Mesut Ozil display against Sydney on Social Media
Arsenal kicked off their pre season Australia tour with a 2-0 win over Sydney FC at the Allianz stadium.
Mesut Ozil confirmed he will be staying at Arsenal yesterday and started today.
Ozil played the first 68 minutes before being subbed off for Alex Iwobi.
The playmaker of Turkish origin put on a decent display and could easily have had an assist were it not for Theo Walcott's poor finishing.
We took a look at how Arsenal fans reacted to Ozil's display on social media.
Walcott's finishing did not go down well at all with the Gunners faithful.
It's preseason but THEO must be on a dartboard at Ozil house 😂

— Mike Gutierrez (@SlaynWilder) July 13, 2017
Just watching Theo scuff dimes into the keepers chest must fill Ozil with rage

— Stanton ⚽️ ⚾️ 🤙🏽 (@StantonThe3rd) July 13, 2017
Bantz.
About to watch some Sydney farmers get nutmegged by Ozil pic.twitter.com/oK8xLlRXSy

— Sagna Boy (@SagnaBoy) July 13, 2017
These has set our sarcasm meter right now.
Ozil subbed off, I just threw my ticket in the bin and am heading off #WengerOut pic.twitter.com/53dRShJ410

— Sagna Boy (@SagnaBoy) July 13, 2017
Lacazette got his first Arsenal goal, Ozil got to watch it from the sidelines.
Ozil on the bench watching Lacazette's movement pic.twitter.com/kEwsZmg74e

— Frankie Hobbs (@Frankie_Hobbs) July 13, 2017
It's a pre-season game you turd. Ozil was outstanding linking up with the teens. Won't play 90. Lacazette is on now #arsenalinsydney #flop

— Mitchell Horatio (@mitchhoratio) July 13, 2017
To be fair both looked pretty impressive today.
Lacazette is going to be so overhyped by Arsenal fans, just look at Ozil etc

— Sam (@exerdus) July 13, 2017
High praise.
Laca fitted right in, good position ally, links up well and knows how to finish. He will get 100 goals for thus club. Ozil superb 1st half

— David Body (@DavyBody) July 13, 2017
It is a shame we did not get to see Ozil and Lacazette on the field together.
It was a sight to behold live. Only wish we had seen him and Ozil on pitch at same time.

— Nick Merry (@nickamerry) July 13, 2017
With this kind of finishing from Lacazette we wonder if Ozil will end up breaking the all time Premier League assist record.
Lacazettes first goal for Arsenal!
Mesut Ozil will be loving life right now! #Lacazette #afc #WeAreTheArsenal ⚽⚽⚽🔥🔥🔥 pic.twitter.com/J5zDhgKFvG

— The Arsenal (@ArsenalGoals) July 13, 2017
The dream is about to become a reality! well if Alexis Sanchez stays at least.
Scenes when we see the Xhaka-Sanchez-Ozil-Laca link up play 🔥🔥🔥 #Arsenal

— Nordene Ilagan (@NrdSph19) July 13, 2017