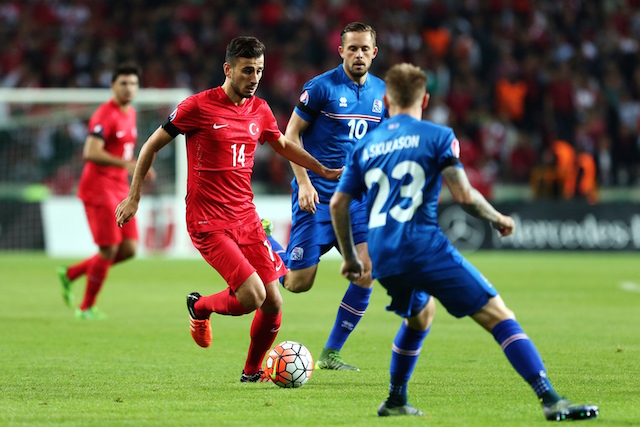 Turkey has expressed disappointment at the way its national footballers and journalists were treated at Iceland's Reykjavik airport.
Foreign Minister Mesut Cavusoglu called the team's treatment "unacceptable in terms of diplomatic and humanitarian practice." 
Milli Takımımızın İzlanda havaalanında maruz kaldığı muamele diplomatik teamüller bakımından da insani bakımdan da kabul edilemez. Gereğini yapacağımızdan milletimizin şüphesi olmasın. 🇹🇷 @TFF_Org @MilliTakimlar

— Mevlüt Çavuşoğlu (@MevlutCavusoglu) June 10, 2019
Turkish international striker Burak Yilmaz revealed that the team were held up for over three hours in security and a lengthy customs search.
Yilmaz said: "What they did is disrespectful and rude! We have been waiting here for three hours. They took everyone's bags and searched them again and again. We flew for 6.5 hours and we've waited for three hours."
And then there was the toilet brush incident which sparked outrage on social media.
Among the journalists waiting for the Turkish international players in the airport was an individual who held a brush to the face of Emre Belozoglu.
🇹🇷The Turkish NT were forced to wait for hours in customs after arriving in Iceland today

The NT and travelling journalists are furious with the conduct of the Icelandic authorities

To make matters worse a reporter decided to hold a toilet brush to the face of Emre Belözoğlu pic.twitter.com/Ahh1NxSa1t

— Turkish Football (@Turkish_Futbol1) June 9, 2019
The reason behind the incident remains unknown but it was interpreted as an insult by many Turkish fans.
As journalists surrounded some players on arrival a dish-scouring brush could be seen among the microphones.
Players also endured a lengthy customs search, Turkish media reported.
See More: Besiktas Target Kerim Alici On Several Ligue 1 Clubs Radar Following Mehmet Zeki Celik Success At Lille
Turkey arrived in Iceland on Sunday ahead of their Match Day 4 UEFA Euro 2020 qualifier.
The Crescent-Stars will have the chance to extend their points tally to 12 points after four games in Group H.
Turkey top the group after beating world champions France 2-0 on Saturday.