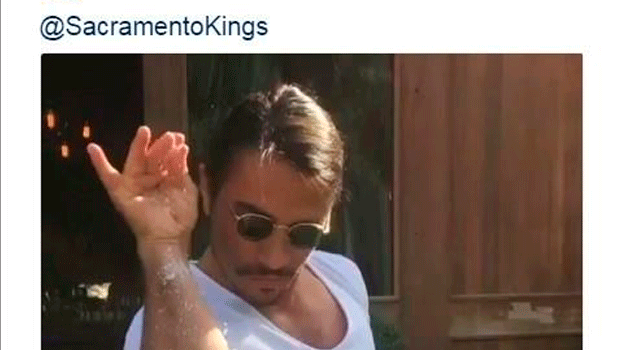 Turkish chef Nusret Gökçe – otherwise known as #SaltBae – has become the first Meme of 2017.
The flamboyant chef who already had a huge Instagram following, has gone viral on social media over the weekend.
It all started with a video of Nusret showing off his impressive knife skills while cutting meet. The short Instagram clip quickly circulated on the internet with people commenting on how he elegantly sprinkles salt on the meat.
The clip quickly turned into a sensational meme.
When your sibling is already getting shouted at and you remind your mum of other bad things they have done pic.twitter.com/X8Z4zXeRyX

— #2KGIVEAWAY (@90sTalha) January 8, 2017
when your makeup is almost complete but you still gotta add that touch of highlight pic.twitter.com/RzNbTbymor

— ? ya like jazz? ? (@hanxine) January 7, 2017
Adding a little Caucasian to your cv before sending it off pic.twitter.com/VAwoCTCLQO

— THELMZKITCHEN (@thelmzkitchen) January 8, 2017
me putting "lol" at the end of a one word text so i don't sound rude or bored https://t.co/Y6fHTm5RSi

— Treywop. ? (@TRYVNS) January 8, 2017
#SaltBae's daily routine: pic.twitter.com/hGxZYgjVmx

— deray mckesson (@deray) January 8, 2017
You vs the man she tells you not to worry about pic.twitter.com/QeXqj8upj2

— ™ (@elBeardedBandit) January 7, 2017
This is Porn pic.twitter.com/lqaKWGWAkk

— ӇΛϞz (@cutclear) January 8, 2017