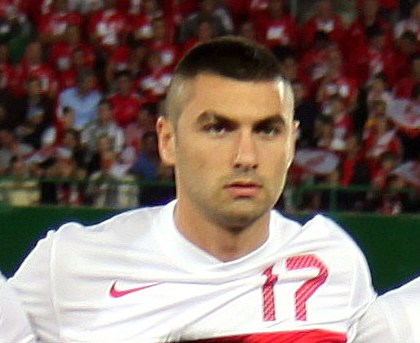 Trabzon's very own Black sea storm has scored 31 goals and got 9 assists in just 33 league games. Yilmaz has started turning heads in Europe and is rumoured to be on Ajax, CSKA Moscow and Rubin Kazan's wish list however, it appears Burak has his sights set on Arsenal. In a recent interview on Turkish state TV, TRT1's 'Stadyum' program, the Trabzonspor striker was quoted as saying, "If I was to move abroad I would want it to be a big club, I would consider moving to England, if your wondering what team I'm considering, I can tell you that I would accept a transfer to Arsenal."
His recent comments have caused a social media storm and he is being linked with half the clubs in Europe, for all the speculation he is relatively unknown outside Turkey, so who exactly is, Burak Yilmaz?
Burak Yilmaz was born in Antalya on the 15th of July 1985, Yilmaz was first tipped for greatness by the French manager Jean Tigana who was then the boss at Besiktas. Infact Tigana rated Yilmaz so highly that he made references to him reminding him of a young Thierry Henry, the young Yilmaz went onto be nicknamed, 'Tigana's prince' and moved to the Black Eagles from Antalyaspor in the 2006-2007 season. Despite having already played at fellow Turkish giants Fenerbahce and Besiktas, he only started living up to his name after his transfer to Trabzonspor in 2010. Alot of the credit has to go to manager Senol Gunes who has mentored him during his astronomical rise to the top of Turkish football.
The 26 year old Turkish international has been in sensational form for Trabzonspor over the past two seasons. He guided the Black Sea giants to pole position in the league last year scoring 19 goals in the process, only to lose out on winning the championship to Fenerbahce on goal difference.
Yilmaz has already eclipsed last seasons goal tally with an impressive 31 goals and 9 assists in 33 league games. Infact he has scored more goals than 8 league teams and is level with Kayserispor. The proflic striker has scored 57% of Trabzonspor's 51 goals and been directly involved in 70% of them. The Turkish international has finally started living up to the aura which shrouded him as a youth. Alot had been expected from the 26 year old Turkish international early in his career however, he never made the start most pundits had predicted.
Yilmaz has improved both physically and mentally, he is now a much more powerful and faster player and uses his physical attributes to great effect. He uses his strength well in one on one situations with defenders, makes intelligent forward runs and is an expert at playing off the shoulder of the last defender. Although in European competition so far he has struggled against well organized offside traps and needs to work on this side of his game. He holds up the ball well, has impressive dribbling skills and is developing into a free kick specialist. His finishing is clinical, he has a ferocious shot and has the rare ability at being able to lift the rest of his team.
Burak is renowned for his mental strength, he has a tremendous work rate and gets the best out of his teammates. Ex-Turkish national team manager Guus Hiddink was full of praise for the his striker, "Burak is a modern professional footballer, I like his determination and hard-working character. He never complains about anything in training. He gives power to the whole team and never avoids taking risks in matches. He is the type of player you rarely see nowadays. He never gives up, he is great in one on one situations and plays with alot of passion and determination. I respect Yilmaz and am proud of his rapid development."
Yilmaz has taken 50 shots on target and is averaging a goal every 70 minutes, he has already broken his personal goal record and is on course for breaking the club record of 31 goals in a season held by Fatih Tekke. In short his stats really are impressive, he has a better goal to match ratio than Cristiano Ronaldo and Lional Messi, now you may be thinking thats all great but how can you compare the La Liga with the Turkish Super League? In comparison what Yilmaz has achieved is still very impressive, he doesn't have a midfield consisting of the greatest passers on the face of the Earth, he doesn't have the likes of Xavi, Iniesta, Alonso and Fabregas delivering pin point, laser guided passes all game. In addition to having to rely on a sub-par midfield, he is playing in a very physical league, rash tackles are common and strikers are not protected. It wouldn't be unfair to say he has a much harder job than most strikers at Europe's top teams and its scary to think what he could achieve if he had a midfield full of world class talent spotting his runs and giving him a better delivery.
Burak still needs to prove himself in Europe, unfortunately he did not get much of a chance to play in Trabzonspor's Champions League campaign this season due to suspension. He is yet to score in Europe this season and his team will need him to find his league form against PSV in the Europa Cup if they are to face any hope of progressing to the next round. In European competition Yilmaz has often found himself straying into offside positions, this is something he needs to work on. Another concern has been his discipline, he does have a habit of picking up stupid yellow cards and getting himself suspended. Manager Gunes has been working on this aspect of his game and there has been an improvement this season but he does still have a volatile nature which is part of his game.
Burak Yilmaz is on fire, expect some of Europe's top clubs to be hot on his trail come summer.