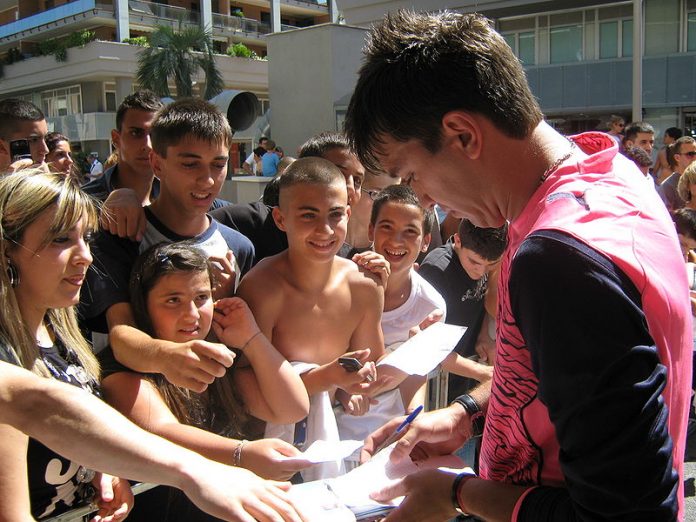 With Galatasaray supporters currently caught up in the latest wave of Musleramania we decided we'd provide you all with the low-down on how Fernando Muslera has managed to become the fans favorite in such a short space of time. Fernando Muslera has already established himself as one of the best goalkeepers in the Turkish Super League despite only joining Galatasaray last summer. The Lions manager Fatih Terim considers him as "one of the most important goalkeepers in the world", the IFFHS had him down as the sixth best goalkeeper in the world in 2011 and he adored by fans from Uruguay to Istanbul.  Nando, despite being born in Buenos Aires, Argentina has always been proud of his Uruguayan roots, "I grew up in Uruguay so I am Uruguayan." Interestingly enough, as a child Muslera played as a forward and hated the notion of playing in goal. Infact in a recent interview with Turkish magazine 'Tam Saha', he told reporters that he was only put in goal because of his height, "when I was a child I didn't want to play in goal. Actually I started off as a forward, I first played as a goalkeeper aged 8 and this was all because our teams keeper was missing. As I was the tallest kid on the team they put me in goal".

Muslera started his footballing career at Montevideo Wanderers youth academy player and soon rose through the ranks and made his professional debut in the Uruguayan Primera División in 2007. After a brief loan spell at rival club Nacional he rejoined Montevideo and his impressive performances caught the attention of Italian club Lazio who signed him the same season for €3 million. El Nene got off to a shaky start and the inexperienced, young keeper struggled to make the starting 11 until his breakthrough in January 2009 which marked a turning point in his career. Muslera grew in confidence and within a year he had cemented himself as the 7th best goalkeeper in the world according to the IFFHS and had won the Coppa Italia, Supercoppa Italiana, finished 4th in the World Cup and helped Uruguay lift the 2011 Copa America cup. 

Muslera shocked many in the footballing world with his decision to join Galatasaray in 2011. The Lions signed him for a €12 million fee and a part exchange deal with Albanian international Lorik Cana. The transfer earned him the title of becoming the most expensive keeper to ever grace the Turkish game and the 5th most expensive keeper in the world. Nando upon arriving in Istanbul, in an interview on the 'Son Pas' program on Galatasaray TV told the supporters, "Fatih Terim & Taffarel are huge characters, I'm proud to be playing at this club and am really pleased at being here". 

Galatasaray had not mounted a serious title challenge for the past three seasons and were in the midst of a crisis. One of their key weaknesses had been in the goalkeeping department. The Lions had struggled with keepers since the departure of Faryd Mondragon and were desperate to put an end to their goalkeeping miseries. Galatasaray had a major reshuffle last summer, Unal Aysal was elected chairman, legendary manager Fatih Terim was reinstated and Brazilian world cup hero Claudio Taffarel was bought back to the club as goalkeeping coach. The Lions followed this up by investing heavily in building a team which would bring the glory years. 

Muslera was under huge pressure to live up to his reputation and didn't get off to the best start, a few mistakes and blunders raised a few question marks in his first game for the club which they lost 2-0 to IBB however, he soon silenced his critics. 

What Muslera has achieved in his short time at the club has been nothing short of amazing, he has turned one of the leagues worst defensive sides into a team which has conceded the fewest goals in league so far. Muslera has only conceded 24 goals in 32 games, 10 fewer than the experienced Turkish international Fenerbahçe's Volkan Demirel. Even more impressively he has kept 15 clean sheets already this season. The 6ft 2 keeper has been in outstanding form for Galatasaray, he commands the defense, deals well with aerial balls, is a brilliant close range shot stopper and has wonderful reflexes. He has played a key role in the Lions impressive season and is an important factor as to why they currently sit 6 points clear at the top of the table. Muslera is also great at judging play, his positional awareness is impressive, he knows when to leave his goal and when to stay put. His one weakness is his occasional lapses in concentration, he did make a few mistakes and rash charges out of goal during his first few games however, he has been more focused since then. 

Fernando Muslera has already became the sweetheart of the Galatasaray faithful, the supporters love him, the ultras have written chants in his name and he appears to be enjoying his time in Istanbul. In a recent post match interview he said, "I'm very hapy at Galatasary, Fatin Terim is a manager respected worldwide. He is a fantastic motivator and our supporters passion is unbelievable." Nando is also relishing the opportunity of working with childhood hero Taffarel, "I remember Taffarel as a player and was lucky enough to watch him play. We have the same aims, everyday I try to learn something new from him."

Muslera has gone from strength to strength in the past few seasons despite having only just turned 25. With Galatasaray building one of their strongest teams in recent years he could be the goalkeeper to lead the Lions to the successes which have eluded them since they rocketed to fame in the late 90's. The Lions slogan this season has been, 'The Spirit of 2000', alot of hard work has gone into recreating a team to match that of the glory days however, Muslera believes they will create a Galatasaray team even better than the ones of old. He is definitely one to a keep an eye on and we believe that he could break into the world's top 5 goalkeepers by the end of the year.