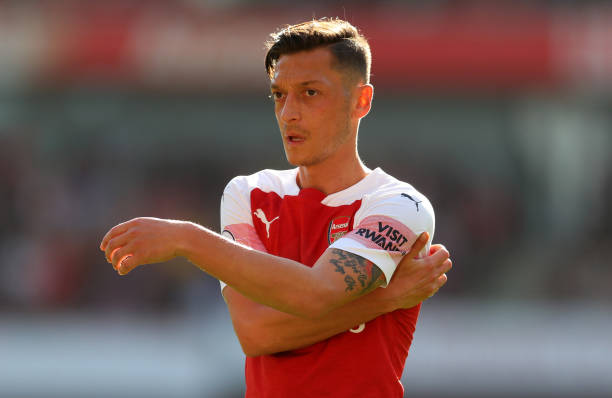 Mesut Ozil has struggled for playing time this season making just a single Premier League appearance for Arsenal under the stewardship of head coach Unai Emery.
Emery has revealed that his decision not to select Ozil is a joint 'agreed strategy' between himself and the club leadership.
It appears the club is fully behind Emery leaving the playmaker of Turkish origin out of the side.
Asked if he faced pressure from the Arsenal hierarchy to select Ozil, Emery said: "Here we have one agreed strategy as a club and a team. Because the most important thing is the club, the team and finding a performance.
"Previously we were all speaking between us to take that decision. I know all the supporters want to know something [more] but now is not the moment."
Members of Ozil's entourage also informed Turkish-Football in a face to face meeting that Arsenal hope to force the playmaker into submitting a transfer request.
See More: 'You Make Me Laugh' – Eight Arsenal Players 'Liked' Cryptic Mesut Ozil Social Media Post
Should the 31-year-old put in a transfer request the Gunners would not be required to pay all his wages and bonuses in full.
The club wishes to force Ozil out but he is under contract until 2021 and has no intention of leaving before the end of his deal is up.
Ozil signed his current deal back in January 2018 during the Ivan Gazidis and Arsene Wenger era.