Valencia have made a €2.5 million offer for Altinordu defender Çağlar Söyüncu according to club president Seyit Mehmet Özkan.
Özkan stated that Valencia scouts have praised the young defender and that they will continue to keep tabs on the 19-year-old.
"Valencia scouts have given him glowing reports but they want to keep close tabs on him to see how he does in the future," Özkan said.
"We will hold talks at the end of the season I am keen for him to move to Europe."
Manchester City are also keeping tabs on Söyüncu a source close to the player told Turkish-Football.com.
City and Valencia could face competition this summer from Bayer Leverkusen who have also been sending scouts to keep a close eye on the promising defender.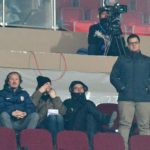 Söyüncu is one of the most hight rated youngsters in the current Altınordu setup. The Izmir based side outfit have an unprecedented system in Turkey which plays to create a team a side made up fully of players developed by the club.
The project has attracted interest from across Europe and several Premier League sides including City, Liverpool, Stoke City and Norwich City have sent scouts to keep tabs on the players coming through the youth ranks.