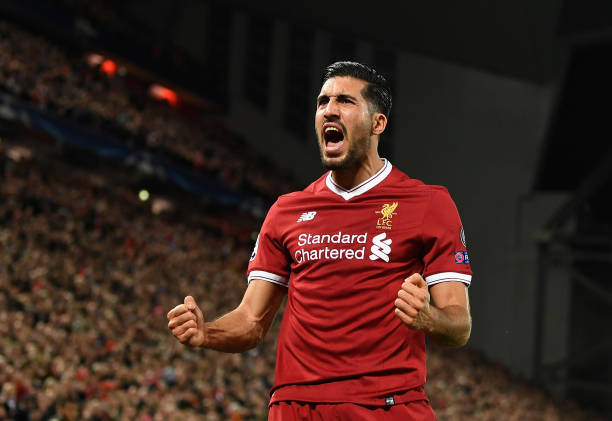 'Very foolish rotation' – Liverpool fans rage that star midfielder was dropped for Everton derby
Liverpool were held to a 1-1 draw against bitter rivals Everton at Anfield in the Merseyside derby.
Reds boss Jurgen Klopp made a number of surprising changes heading into the clash.
Klopp decided to rotate his midfield dropping Coutinho, Wijnaldum and Emre Can from the starting line up.
Can did not make an appearance over the course of the 90 minutes.
Klopp made several changes to the side that crushed Spartak Moscow 7-0 in the Champions League with Trent Alexander-Arnold and Firmino also being dropped.
Meanwhile Joe Gomez, Alex Oxlade-Chamberlain and Dominic Solanke were drafted in.
We took a look at how Liverpool fans reacted to Can in particular being dropped on social media.
The decision to start Henderson, Ox and Milner over Coutinho, Wijnaldum and Can did not go down well with Liverpool fans. Especially following the result.
How can a coach that has vision for his club play Henderson, Ox and Milner ahead of Coutinho, Wijnaldum and Emre Can? pic.twitter.com/ChN2F9QH1J

— ♔ King Absolute ♔ (@KingAbsolute_) 10 December 2017
It is a situation that is both baffling and utterly delusional… I shock for klopp.

— Daniel (@divanoboss) 10 December 2017
Very foolish rotation. There are games where I rotate and experiment with players like Solanke, the derby ain't one of them.

— Ifeabunike Chukwudi (@Ifeabunike) 10 December 2017
Wijnaldum & Emre Can should have played

— Timmy L (@timsdub) 10 December 2017
Imagine being Emre Can and not getting into a team in front of Henderson and Milner ????????

— DaveyHolt (@daveholt92) 10 December 2017
If you're Emre Can you've got to be fuming that Jordan Henderson is getting a game in front of you, he's absolutely woeful. Don't even think he's one of England's best 10 centre mids let alone top 2?

— Will Fraser-Gray (@willfg98) 10 December 2017
#KloppOut need Emre Can, NO MORE HENDERSON AND LOVREN

— Bast (@WhipYourAss) 10 December 2017
What does Jordan Henderson actually do apart from shout at the ref all game? Emre Can so much better and just sitting on the bench.

— Luke Morris (@Lukem0rris) 10 December 2017
Is Can underrated?
Why is Emre Can so underrated

— John Bailey (@baileyjohn80) 10 December 2017
Henderson captain of LFC is an absolute joke, Emre Can far better footballer, he's gone after the season, team choice 2day is laughable, poor managing.

— Patrik Berger Jr. (@bergyan7) 10 December 2017
If the latest reports are to be believed Juventus will be signing Can at the end of the season.
Emre Can has said his "YES" to Juventus. pic.twitter.com/NJ8ObP1U9S

— Forza Juventus (@ForzaJuve2017) 10 December 2017
Harsh?
I can see why Emre Can wants to leave

— . (@SuarezMojo) 10 December 2017