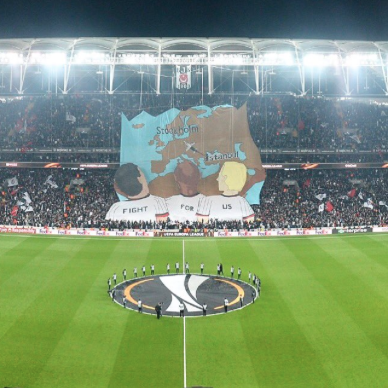 Photo: Besiktas fans unveil giant 'Stockholm' tifo promoting tolerance
Besiktas booked a place in the Europa League quarter-finals for the first time since 2003 after beating Olympiakos 4-1 – 5-2 on aggregate.
The Black Eagles put on an impressive display, as did their fans who deserve a special mention for their impressive tifo.
See More: For Besiktas news and everything you want to know about the club
The supporters unveiled a giant choreography show which depicted three Besiktas players arm in arm looking onto the continent of Europe with a plane flying towards Stockholm – the Europa League final destination.
The three players included players of different skin and hair colour united, with the words 'Fight for us' written on the back of their shirts.
This is Vodafone Arena… Road to Stockholm👊 #Beşiktaş pic.twitter.com/QMu3BH5Tsu

— Gökmen Özcan (@gokmenozcan) March 16, 2017
The main Besiktas supporter group Çarşı have a history of campaigning for humanitarian causes and against racism.
Çarşı have campaigned against nuclear power, against racism in football and raised awareness for earthquake victims from the stands.
Most of the core group are run from the Beşiktaş district of Istanbul but Çarşı are a nationwide organisation with branches across Europe.