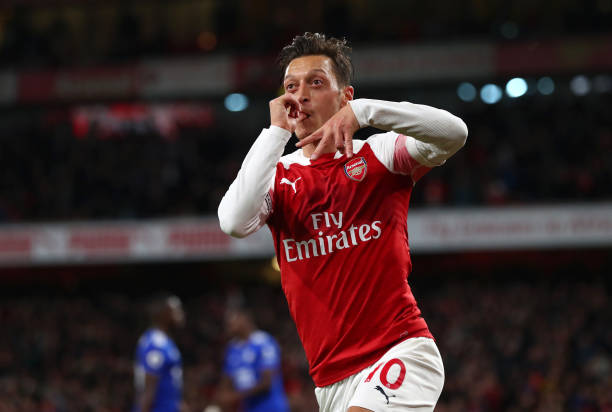 Arsenal beat Bournemouth 5-1 at the Emirates Stadium in the Premier League on Wednesday.
Head coach Unai Emery decided to give the playmaker of Turkish origin a starting role and boy did he make the boss feel like he made the right choice.
Ozil scored almost immediately off the mark with his trademark finish. The 30-year-old managed to kick the ball into the ground to chip the keeper. We will get onto more of that later.
The Arsenal star provided the assist for the second goal and put on a stunning performance which was widely praised by even his strongest critics.
We took a look at how Arsenal fans reacted to his display after the game on social media.
That shot is being called 'The Ozil'.
Does any other player try that clever bounce into the ground & over the keeper finish? If not, we should probably call it The Ozil. Top class tekkers.

— Adrian Clarke (@adrianjclarke) February 27, 2019
He did the bounce into the ground thing again! Ozil did the thing! Y'know, his thing!

— James Benge (@jamesbenge) February 27, 2019
The Ozil bounce™️ pic.twitter.com/O3oQAMIpQP

— Gunners.com (@Gunnersc0m) February 28, 2019
The Ozil finish.

— Arsene H (@Arsene1034) February 28, 2019
It's not a fluke! ????? #TheOzil #Signaturefinish @MesutOzil1088 pic.twitter.com/FUiy3pghI4

— Dee (@Deee213) February 28, 2019
Ozil
Ozil is having one of those nights that make you forget about the salary, the off-field machinations, the politics. It's a privilege to see a master craftsman in this sort of mood. pic.twitter.com/kLrt9fpyFF

— James Benge (@jamesbenge) February 27, 2019
Mesut Ozil's name is being sung loudly by Arsenal fans here at the Emirates. His performance this evening has been superb. On par with his sublime efforts Leicester in October and Napoli in 2013.

— Layth (@laythy29) February 27, 2019
Mesut Ozil went to take a corner In front of me, got a huge cheer from the crowd, and tapped the arsenal badge. I love him ?

— Steph (@stephpgold) February 27, 2019
Ozil applauds the fans and taps the #Arsenal badge on his way to take a corner #afcpic.twitter.com/SpZfOrycST

— Urban Arsenal (@urbanarsenaI) February 27, 2019
The return of Ozil seems to have really revitalized the team. I think he's working harder now. One goal and one assist tonight. Credit to Emery for not accepting complacency and giving him the incentive he needed. Hopefully he keeps performing like this against the big teams too. pic.twitter.com/bPLCc0n6Jo

— ArsenalArena (@ArsenalArena) February 27, 2019
Who created the goal? You guessed it

Sir Mesut Ozil

— Urban Arsenal (@urbanarsenaI) February 27, 2019
That's an interesting take
Mesut Ozil has scored in Carl Jenkinson's last three PL starts at the Emirates. Proof Jenkinson is the key to getting the best out of Ozil.

— Richard Jolly (@RichJolly) February 27, 2019
What a stat
50 – Mesut Ozil has now been directly involved in 50 goals in just 85 Premier League appearances for Arsenal at the Emirates (19 goals, 31 assists). Nifty. #ARSBOU pic.twitter.com/fzfMPdWZQe

— OptaJoe (@OptaJoe) February 27, 2019