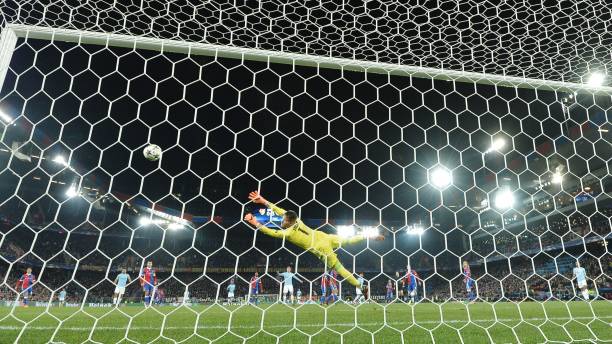 Manchester City recorded their second successive victory of the season with a convincing 6-1 victory over Huddersfield at the Etihad Stadium.
Sergio Aguero was the star of the show scoring a hat-trick for the home side, Jesus and David Silva also found the back of the net while Kongolo scored an own goal.
Ilkay Gundogan meanwhile, started again in central midfield.
We took a look at how City fans reacted to the performance the midfielder of Turkish origin gave on social media following the game.
See More: Fans Reveal Whether Man City Star Looks More Like Batman Or Zorro
Gundogan received a mixed response as usual but there was far less criticism than he received against Arsenal.
Gundogan played well today, not sure where the negativity surrounding him comes from.

— Pete Dillon (@pdillan1) August 19, 2018
We were outstanding today . David Silva first 10 minutes was frightening. Also Gundogan did very well

— Martin Gunn (@m_gunn) August 19, 2018
Not far off perfect from #mcfc. Aguero superb, David Silva and Mendy on another level. Thought Gundogan was very good too.

— Jordan Elgott (@JElgott) August 19, 2018
Mendy played close to a 10 today. Aguero for me was 10/10. Gundogan was excellent. Silva close to perfection. Bernardo a threat throughout. Gabriel Jesus turned in the kind of performance we've been waiting to see for a while. Just excellent all round. #mcfc

— Ryan Corless (@RCorless33) August 19, 2018
Today's performance was startling. We played with alot of confidence and trimmed the mistakes. I am proud of my boys! Big up Gundogan!

Had to replay the match for supper.. rice and peas and okra in the tummy.

— Uncle Pep ⭕ (@pepcenturion) August 20, 2018
The depth in quality is frightening.
I don't know how to explain it in sporting terms but a team that can take off David Silva, Sergio Aguero and İlkay Gündoğan for Mahrez, Sane and Foden, just feels morally wrong

— Zito (@_Zeets) August 19, 2018
When De Bruyne is injured but you have Silva, Gundogan and Bernardo Silva to fill his place pic.twitter.com/6MQLi5VtsL

— archie (@archiedtd) August 16, 2018
The Batman jokes are back!
Phil Foden will get a ten-minute run out here- he replaces Batman. Or is it Gundogan?

— City Watch (@City_Watch) August 19, 2018
Obsessed with Gundogan's Dark Knight Mask… maybe Goffin should wear one as he is accident prone. ? pic.twitter.com/wu0UAeoEkG

— Mmm-Caramel?-WOW! (@vamosanyone) August 19, 2018
Well played Batman. I think you should increase your pace . You are a great midfielder

— Jakirocityzen (@jakirocitizen) August 19, 2018
Bane!
Gundogan was great today…#mcfc pic.twitter.com/ASuZkplE6y

— MCFC World (@MCFCworld) August 19, 2018
Great bants.
Does Gundogan have a Mexican wrestling show straight after the game today?

— Gerry Johnston (@gjsportsblog) August 19, 2018