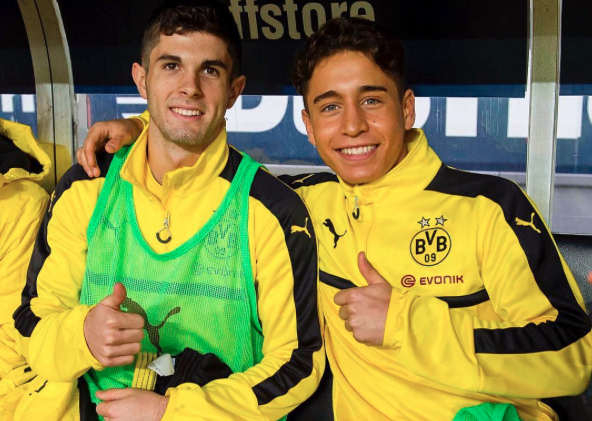 'Were A World Class Club Not A Small Recruitment Agency' – Liverpool & Southampton fans react to both clubs being in the race for Emre Mor on social media
Liverpool and Southampton have both been linked with a move for Borussia Dortmund wonder-kid Emre Mor.
The Mirror broke a story claiming that the Saints will rival Liverpool in their bid to loan the 19-year-old.
The story sparked some controversy because of the recent spat between the two clubs over Virgil van Dyke.
The Reds dropped interest in Van Dijk and issued a public apology on the official club website after reports emerged that Jurgen Klopp met with the defender in private.
We took a look at how Southampton and Liverpool fans reacted to news that both clubs are in the running for the Turkish international forward on social media.
The Saints fans seemed pretty open to the idea of having Mor join over the summer.
You reckon? I can see us pulling that off easily, however dont think he'd be a starter. #saintsfc

— SaintsPrime (@SaintsPrime_) June 17, 2017
As for impact sub winger, if they want one, just go Emre Mor or Malcom. Low price & high potential. Won't find much better value. #LFC

— NE Mossing (@NilsMossing) June 18, 2017
Emre Mor, on loan, or permanently would be a great signing. Such a versatile player. #saintsfc

— Sam (@SamHammondRS) June 18, 2017
Emre Mor needs a good coach and regular playing time..The boy is extremely good with a good potential,BVB taking him for granted.

— Mr_Fareed (@Fareed_Dbt) June 18, 2017
Southampton do have an impressive record working with youngsters.
Che Adams, Emre Mor, Munir el Haddadi, Matteo Guendouzi..I love the youth links. Feel like we're back to our identity #SaintsFC

— Blake (@BelgianSaint) June 18, 2017
The loan option was brought up as a concern, perhaps a buyout option could ease nerves over simply signing Mor and training him up only for Dortmund to reap the long term benefits.
Put in the loan with an option to buy and he could be really good in a year or two

— Blake (@BelgianSaint) June 17, 2017
Liverpool fans refuse to believe Mor would pick Southampton over them.
The Reds will play Champions League football next season and could very well be involved in a title race but on the flip side of the argument the Saints may be more attractive if they are able to promise him regular playing time.
1. If LFC want the same player as Southampton, there's 0% chance he'll go to the Saints.
2. LFC is not interested in Emre Mor https://t.co/i22JygFj3s

— Nikola Ilić (@LfcNikola) June 18, 2017
So you are suggesting he'd rather go to Southampton? Click bait from the Echo is so disappointing.

— Chris Hutchins (@Hutch2111) June 18, 2017
He can't even get in Dortmunds squad

— JoshYarnell (@JoshYarnellBaby) June 18, 2017
Saints would never have pulling power like Liverpool were a world class club not a small recruitment agency 👍

— Andrew Alexander (@Andy071077) June 18, 2017
The only way he's moving to Southampton is to acclimatise to the PL before his move to Liverpool

— Andrew Holding (@andrew2106) June 18, 2017
Shit our plans have all gone to shit now we cant buy whats his name. Spanner in the works haha

— liam catley (@catley1990) June 18, 2017