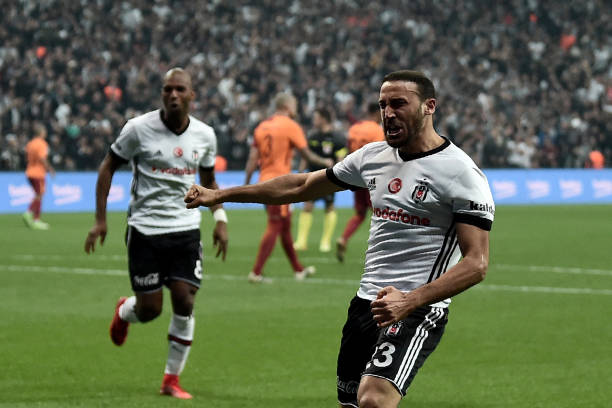 Who Is Everton Record £25m Signing Cenk Tosun – The New Bull Of The Merseyside
The first time I watched Cenk Tosun in person was a few years back in south-east London playing for Turkey A2 against the England C national side at Princes' Park.
So if the question you are wondering is… can he do it on a cold, windy night in Dartford? well, yes he can.
Everton beat off competition from several Premier League sides to agree a £25 million deal with Besiktas for Tosun according to the Guardian.
The £25 million fee would make him the most expensive Turkish international to leave the Super Lig.
Tosun will become the only Turkish national team player in the league but like Mesut Ozil, Emre Can and Ilkay Gundogan he is an ethnic Turk born in Germany – which means he won't need a work permit to play in the Premier League.
Now back to the clash at Princes Park, Kent. It was a world away from the glitz and glamour of Champions League football but the reason I mention it is to give you all some insight into just how far he has come over the past few years.
Turkey ended up winning the game 1-0 but it was hardly a game to remember. One thing did stand out. Tosun was incredibly hard working, he was not very technical at that stage or a consistent finisher but boy he tried.
Turkey – Croatia 1-0 Cenk Tosun ⚽ pic.twitter.com/3Xea8wrfoh

— L_F (@l_f_tw) September 5, 2017
Back then Tosun was playing for the now relegated Gaziantepspor.
Few could have predicted Tosun's meteoric rise from zero to hero.
The powerful striker got his big break in the summer of 2014 when Besiktas signed him as a free transfer after an impressive stint with the Falcons scoring 14 times over the 2013-14 season.
It is worth pointing out that Tosun was signed as a third-choice striker. Today it seems laughable but he was behind the likes of Mustafa Pektemek in the pecking order.
Not one for complaining, he put his head down and got to work. The Turkey international may have been second fiddle to Demba Ba but he scored nine times in 28 appearances in his first season including a Europa League goal against Tottenham.
The following season Besiktas signed Mario Gomez but Tosun managed to give him a run for his money netting 17 times – including two in the Europa League – and providing six assists.
Tosun was beginning to stir up a debate. The general consensus was that of him being a decent backup but by now a few people started to see the potential.
Besiktas ended up winning the league title and Tosun had won over a lot of fans in managing to compete with Gomez for a first team spot.
The 26-year-old started last campaign as second-choice to Vincent Aboubakar but soon established himself as the Black Eagles first option.
Tosun netted 24 times including the Champions League goal of the group stage for his volley in the 3-3 draw against Benfica as well as a further three goals in the Europa League.
2. Cenk Tosun v Benfica pic.twitter.com/phB4zMBZHP

— Mitch (@MitcheIIProcter) June 21, 2017
Yet again Besiktas won the league and Tosun was the star of the show.
He had come a long, long way. Perhaps his most admirable trait is his work-rate. He never stops training and is always working on his game. He has had to. Tosun was not blessed with natural talent. He has had to grind his way to the top and continuously develop.
When Turkey took on England last summer at the Etihad in the first of their Euro 2016 build-up matches it was Tosun that Newcastle United legend Alan Shearer singled out for praise.
"He reminds me of myself when I was younger," Shearer said after the game.
Tosun was chuffed with being compared to Shearer: "It is an honour to be compared the Alan Shearer, I know I still have to still improve but this kind of praise can only help."
In many ways Tosun is the type of player traditional Premier League fans most admire. He embodies the values most admired in British 'get stuck in' footballing culture. The antithesis to Mesut Ozil's languid style which infuriates fans and pundits week in week out. But he is not all brawn over brains either. There is a subtle sophistication to his game that often goes unnoticed.
The Tosun of today has developed every aspect of his game, finishing, technique, aerial ability, his off the ball. He can hold up play, be deployed as a lone forward and even feature out wide.
It is quite astonishing to see just how far he has come in a short time. And he shows no sign of stopping.
The Turkish national team crashed out of the World Cup qualifiers but one player who can hold his head up is the Besiktas man. He scored a wonderful brace against Finland taking his tally in all competition this season to seven.
There is no denying the man is in great form and furthermore that he is a very dangerous striker. But have we not seen this before? a player lighting up a foreign league and then flopping in England.
Vincent Janssen may spring to mind considering Tottenham are keeping tabs on Tosun.
Afterall Janssen joined on the back of a 32-goal campaign for AZ Alkmaar, and yet he ended last season with only six goals in 39 appearances for the North London outfit.
But there are a few fundamental differences.
First and foremost European competition form. Tosun has not just proven himself in the league or for country. He also has an impressive record in Europe.
Janssen started all six group stage games in the 2015/16 Europa League but scored just once.
Tosun ended the Champions League Group G with four goals and two assists scoring against Porto and Monaco away.
The star man was involved in six of the Istanbul giants 11 goals in the competition.
The Black Eagles became the first Turkish side to progress to the Last 16 as group leaders.
The Istanbul giants cruised through the group stage undefeated, beating Monaco, Porto and Red Bull Leipzig on the goal.
The goals were not simple tap-ins and penalties either. Tosun picked up goal of the week in the 3-1 win over Porto.
In fact he was awarded Champions League Goal of the Group stage for the second season running.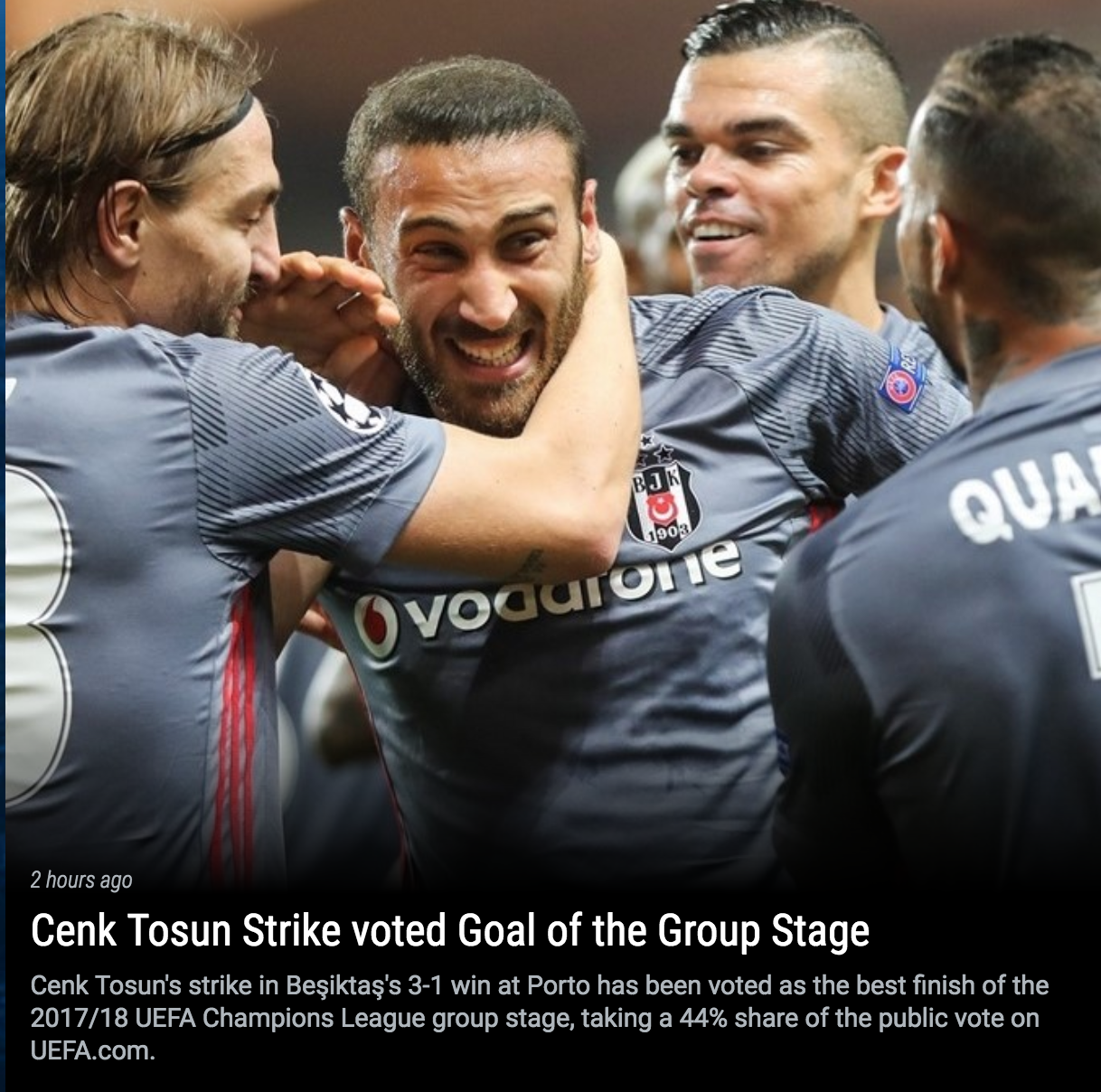 Şampiyonlar Ligi Porto-Beşiktaş maçında Cenk Tosun'un attığı Füze ⚽️ #bahis #kupon #futbol #tahmin #casino #iddaa ? https://t.co/HH6a9NXtCg pic.twitter.com/KStqxgpT3N

— MATBET36.com (@matbetcom) October 3, 2017
To be frank it is also worth mentioning that the Super Lig today is a tougher league than the Eredivisie. Like the Premier League it is very physical and while Tosun is a Turkish international he was born in Germany and rose through the German system at Eintracht Frankfurt before moving to Gaziantepspor.
Tosun has been a late bloomer but he has reached such a level that he is capable of owning Champions League, Istanbul derby and international games.
The name Tosun translates to young bull in English – Cenk meanwhile means Battler or War. The last big Turkish striker Hakan Sukur was nicknamed the Bull of the Bosphorus.
Could Tosun could very well end up becoming the Bull of the Merseyside.