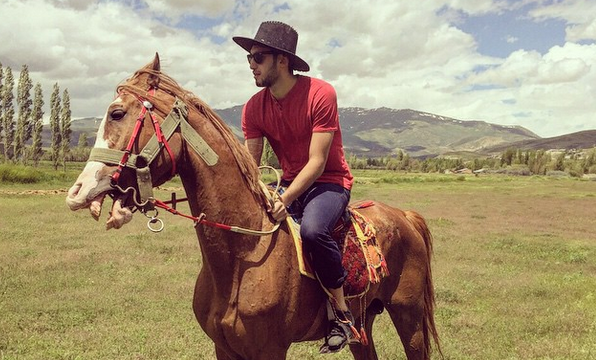 Who is Hakan Calhanoglu? – Everything Arsenal fans need to know about the Bayer Leverkusen target
Hakan Calhanoglu has been described as everything from the future of Turkish international football to the new Mesut Ozil. Being compared to one of the greats as a young player is often a curse in disguise. Things were a little different with Calhanoglu, now 23. The Bayer star has laid claim to being Turkey's version of a player who had chosen Germany ahead of the country of his heritage.
"It's thanks to the Germans that I became a footballer but playing for the Turkish national team is an honour. I want to be Turkey's Mesut Özil," Calhanoglu told the Milliyet newspaper in 2012 regarding his decision to Turkey.
Both players were born in Germany into families of Turkish origin but unlike Ozil, Calhanoglu decided to represent Turkey.
For Turkey and Germany it must feel like being at a roulette wheel at times when it comes to players choosing their national team allegiance. There is no knowing who they will end up representing. Neither country has managed to work out a system to push the odds in their favour yet but of you're interested in betting and casino we recommend you to visit the online guide Allascasino.com.
The Mannheim born youngster was snapped up by Karlsruher aged just 15 and rose through the youth ranks before being promoted to the senior side towards the end of the 2011-12 team. Hakan made a series of impressive performances but was unable to prevent KSC dropping into the 3. Liga.

Despite Karlsruher taking the plunge Hamburg HSV saw enough in the young midfielder to warrant a €2.5 million transfer last summer. HSV decided Hakan would be better off developing his skills instead of spending a season on the bench and ended up loaning him back to his former club.

Hakan shone at KSC, scoring 17 times and providing 12 assists – the best performing U20 player in the league. Hakan helped guide Kalsruher to win the league title and earn promotion back into the Bundesliga II.
Hamburg ended up signing Calhanoglu for €2.5m in 2012 Calhanoglu had already established himself as a set-piece specialist, netting seven goals times from free-kicks the previous season. However, his spectacular 50-yard wonder goal in the 3-0 win over Borussia Dortmund in 2014 really started to get him noticed and remains social media gold to this very day.
Bayer Leverkusen signed him for €14.5m in 2014 and he has gone on to score 11 goals directly from free-kick goals in the Bundesliga alone. The Turkish international has converted 10.2 percent of his free-kick efforts and has scored 17 times from outside the box since the 2012-13 season.
Calhanoglu became a talismanic figure for Bayer and Turkey, taking just about every corner and free-kick. There is more to his game that set-pieces. The rising star is an intelligent attacking midfielder, capable of unpicking the tightest of defences with clever passes.
Despite being a relatively humble, mild mannered character, controversy has often followed Calhanoglu wherever he has played. In an unbelievable set of events Turkey national teammate Gokhan Tore claimed that Toprak's friend made advances towards his – then – girlfriend. Accompanied by a sidekick whose identity remains unknown, Tore gained access to Toprak and Calhanoglu's hotel room after the pair had returned there. "Then the real story began," Calhanoglu explained in an interview with the German TV channel ZDF.
Over the past 10,000 minutes playing in the Bundesliga, the Turkish attacker has netted 34 goals and provided 28 assists in 137 appearances – contributing on average to a goal every two games.
Calhanoglu was in the midst of one of his best seasons yet for Bayer scoring six times and providing five assists in 14 Bundesliga games when the next controversy hit.
FIFA suspended Calhanoglu from playing club and international football over an incident which took place when he was aged 17. The Bayer star and his father who was representing him as his agent was reported to have took a €100,000 payment to sign a professional contract with Trabzonspor but opted to sign for Karlshruher instead.
The punishment seemed a little excessive considering Calhanoglu was just 17 and that his father was responsible.
The 23-year-old will be back in action next season and despite having a £32.5 million release clause Sport Bild are reporting that Bayer would be prepared to accept £17.6 million [€20m] – after a disappointing league campaign, finishing in 12th position.
The young playmaker has managed to take on every challenge presented to him and establish himself as an influential player at each club he has joined. The 23-year-old already has 28 goals and 29 assists for Bayer and has established himself as a first-team regular in the Turkish national side.
£17.6 million would be a bargain for a player of Calhanoglu's quality at this stage in his career. The free-kick maestro is ready for his next challenge and it would be fitting if he were to join his idol Ozil at Arsenal.