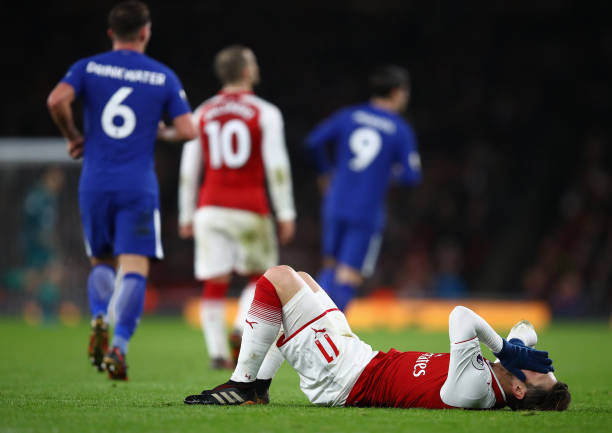 Arsenal suffered 3-1 defeat against Manchester City at the Etihad Stadium on Sunday in the Premier League.
Gunners head coach Unai Emery decided to bench Mesut Ozil, Aaron Ramsey and January signing Denis Suarez heading into the clash.
The decision to drop Ozil and not give him any playing time stirred a debate among fans of the North London based outfit.
We took a look at how Arsenal fans reacted to Ozil not featuring at all against City on social media.
Emery has a small mind…personalizing his beef with Ozil…very petty and childish…Ozil is world class…

— Ahmednasir Abdullahi SC (@ahmednasirlaw) February 3, 2019
Emery-Ozil situation reminiscent of Mourinho-Pogba.

Jose isolated Pog convincing many United fans that Pog was not a good player. Astonishing right? Look what has happened since Jose left

Emery is doing the exact same with Ozil and fans are actually buying it.

— TalkingCannon (@CannonTalking) February 4, 2019
Safe to say Unai Emery hates creative players…How can you bench Ramsey, Ozil and Suarez in this kind of game? Left to me, all three would start behind Lacazette…I sincerely don't understand the negative formation #AFC

— Sidney ?♨ (@sidramatics) February 3, 2019
Dear coach please do something about this. Why is Ozil not playing? pic.twitter.com/J85Xc49oaR

— Stanley Worae (@kniimorgan) February 4, 2019
Y'all need to tell Emery to stop all those beefing he's got with Mesut Ozil,

Playing a big team with no playmaker, I mean which reasonable coach does that, only Emery.
Ramsey, Denis Suarez and Ozil on the bench against that City side

— Mr Sam (@XammyOfficial) February 3, 2019
Why is Ozil on the bench @Arsenal ????? pic.twitter.com/QbhXX2Zrfi

— The WIZRD (@_Costello__) February 3, 2019
Piers changed his tone pretty quickly.
Here is what he said pre-game.
Aubameyang & Lacazette start, Ozil benched. YES, Mr Emery. ?
My bizarre confidence levels about this game just rocketed even higher. I can't explain it, and it makes NO sense, but I think we're going to win. We'll concede plenty so I'm going for a 4-3 win to Arsenal. ?#MCFCvAFC

— Piers Morgan (@piersmorgan) February 3, 2019
And post-match.
Ozil. For £350k-a-week, he SHOULD be bloody playing in a massive game like this. https://t.co/KZQEXdkqug

— Piers Morgan (@piersmorgan) February 3, 2019
Interesting stat!
Lacazette, Aubameyang, Ozil and Ramsey have only started all together 4 times. We've won all 4 games. #AFC pic.twitter.com/GHZHsR5w9D

— Gunners.com (@Gunnersc0m) February 4, 2019
Someone isn't happy. The problem is Ozil is the highest paid player in the Arsenal squad earning £350,000-a-week.
It is up to Emery whether to play his highest paid player or not but when you drop a player like Ozil you have to perform, otherwise what is the point?
The 30-year-old has started just one game for the Gunners in 2019 and made just two appearances in total.
You get Ozil, Denis Suarez, Mkhitaryan but you play Iwobi.? pic.twitter.com/kTDmku8JfP

— Fine$$e (@kxng_tino) February 3, 2019