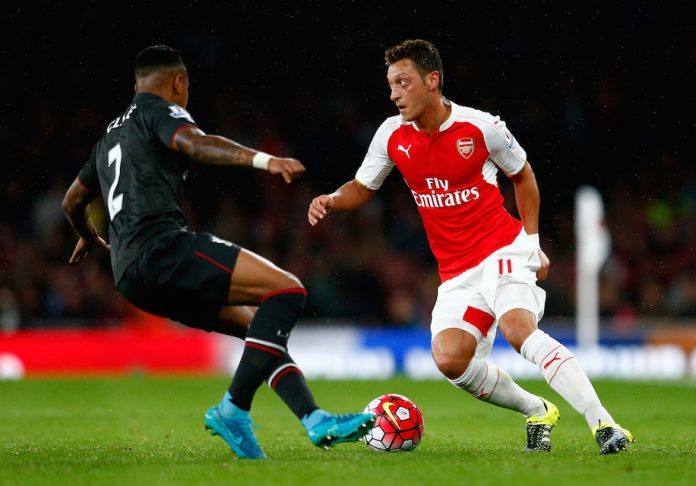 'Without Ozil and Alexis we'd actually be 17th' – Arsenal fans react to Ozil display against Sunderland on social media
Arsenal beat Sunderland 2-0 at the Emirates to keep hopes of finishing in the top-four alive.
The victory kept the Gunners in fifth-place but could secure a top-four spot if Liverpool or City drop points in their final game.
Germany international of Turkish origin Mesut Ozil started against Sunderland and provided his 12th assist of the season.
Ozil put on an impressive display creating a pretty stunning 12 goal scoring opportunities over the course of the 90 minutes.
We took a look at how Arsenal fans reacted to Ozil's display on social media.
In case you missed Ozil's assist here it is in detail.
Mesut Ozil

1: The decision & weight of the pass to Xhaka

2: The Spin & footballing picture

3: The Acceleration

4: The half volley assist pic.twitter.com/rNzu03mQXA

— Woz (@wozthegooner) May 17, 2017
Tweet of the night.
Without Ozil and Alexis we'd actually be 17th.

— 6'2 ?? (@Mta_1991) May 16, 2017
Impressive stat.
Mesut Ozil created 12 chances vs. Sunderland.

That's the most in a single Premier League game by a player since records began [@Squawka] pic.twitter.com/j07Ljfo8GK

— ArsenalFanTV (@ArsenalFanTV) May 16, 2017
Crazy stats.
Mesut Ozil game by numbers vs. Sunderland:

100% take-ons completed
90% pass acc
81 passes
15 crosses
12 chances created
3 take-ons
1 assist pic.twitter.com/n6gzvbUzzy

— Squawka Football (@Squawka) May 16, 2017
Not sure if he is trolling or if this is true, Ozil's stat is impressive regardless.
Mesut Ozil created 12 chances tonight.

Man Utd have created 13 in the Premier League in May.

— Kevin Blundell (@kevin_blundell) May 16, 2017
There were no criticisms of Ozil on the night.
Thought Ozil & Xhaka were superb tonight. Ozil with most chances ever created in a @premierleague game whilst Xhaka is starting to settle.

— Sam (@samuelJayC) May 16, 2017
List of people Ozil has been compared with;
Coutinho
Alli
Hazard
De Bruyne
Eriksen
Pogba
Mane
Payet
David Silva
Oscar
Mata
Neuer
Obama
Trump

— Mohamed ElNneny (@ElNnenyM) May 16, 2017
Mesut Ozil this season: 12 goals and 13 assists

and it is supposed to be a poor season for him? Loool…All midfielders in England are dead

— Sidney (@sidramatic1) May 16, 2017
De Bruyne: 48 Games 7 Goals 19 Assists

Ozil : 42 Games 12 Goals 13 Assists

Yet one of them is having a terrible season

The levels.

— 〽️esut (@SimplyMesut) May 16, 2017
Ozil was absolutely awesome tonight. Again. To even call him a flop is beyond a footballing joke. On the ball, there is no one better in EPL

— Bradley Waters (@BradleyWaters16) May 16, 2017
I need a lie down ozil is a wizard

— Jimmy Trader (@Arsenal49notout) May 16, 2017
Not sure where we'd be as a club if we lost Sanchez and Ozil.

— GoonerGordo (@GoonerGordo) May 16, 2017
Ozil was actually unreal mate today. Never seen a man make as many ludicrous through balls as today, beautiful football.

— TheGamerCan / Curt ށ (@CurtisMorton) May 16, 2017
Nobody was able to accuse him of not showing enough fight either, he lashed out at Oviedo.
Well I never! Mesut Ozil just pushed a player & then kicked the ball at him. Propa Premier League player now! Getting stuck in #Nutter #lad pic.twitter.com/6i0IixJqIE

— Turkish Football (@Turkish_Futbol1) May 16, 2017
Alexis nods it it in, Ozil waves for the team to go back and chase more goals. Good to see.

— gunnerblog (@gunnerblog) May 16, 2017
There is always one!
Mesut Ozil disappeared for 12 games to create 12 chances in a single game. Elite. Mesut Ozil FC.

— Kenshi (@AsnafMubarik) May 16, 2017