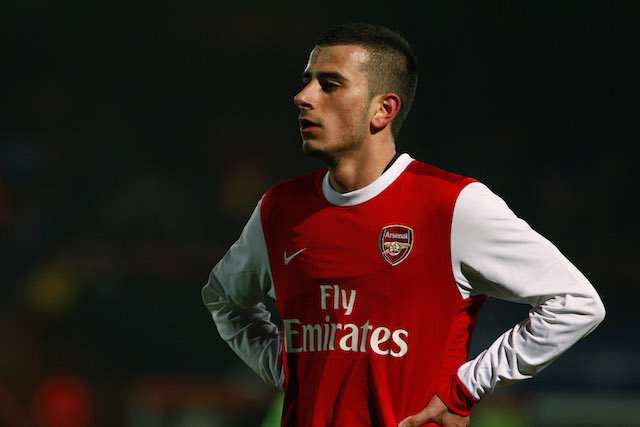 Arsenal have been closely linked with former youth player Oguzhan Ozyakup.
The 24-year-old joined Besiktas five years ago on a €500,000 move and has gone onto become a first-choice start for the reigning Super Lig champions.
Ozyakup played a major role in the Black Eagles winning the league title for the past two-seasons.
The Turkey international will however, be a free agent at the end of the season unless he extends his contract.
We took a look at home Arsenal fans reacted on social media to reports that Ozyakup could be returning to the club.
In general Arsenal fans appeared open to the idea.
2012: Arsenal youth product Oguzhan Ozyakup leaves for Besiktas

2018: Arsenal look to bring midfielder back on a free transfer
(via @si_soccer) pic.twitter.com/UZf6xIswBv

— B/R Football (@brfootball) February 9, 2018
Wtf ozyakup is available for free? This is a joke right? That guy is the best midfielder in Turkey …

— Rahiim Raheem (@Raheem_rahiim) February 9, 2018
Unless we are changing managers,we should replace Wilshere with Ozyakup,wilshere is a baller but doesn't play the Arsenal way

— Theo🇰🇪 (@Theo_mwangi) February 9, 2018
If Markona says he is good, that is good enough for me.
[Transfer] Arsenal snapped Oguzhan Ozyakup, former Arsenal academy product from @BesiktasEnglish with a reported fee around 30 mil, with 15 mil upfront.

Markona admired his ability to own the midfield, and believe his presence will provide depth to the midfield crisis. pic.twitter.com/0eGxPSzXK0

— M1Ö (@JohnMarkona) February 13, 2018
Would Ozyakup be a good fit in the Arsenal midfield.
Ozyakup is a great player. He has no space at Arsenal's midfield, though. https://t.co/HuXjHZmKCV

— Moacir Audrey (@moaciraudrey) February 13, 2018
Ozyakup free would be a great coup

— Gooner Simon (@kragor4) February 12, 2018
Ozyakup to Arsenal makes perfect sense, top quality midfielder and will also quality as homegrown

— Lloyd (@Lloyd_timon) February 13, 2018
It looks Arsenal fans just cannot escape watching Bayern Munich in the Champions League!
Ozyakup is almost certain to start for Besiktas against the German giants in the Last 16 next week.
Arsenal fan should watch out for Oguzhan Ozyakup against Bayern in the UCL.

He's grown to be a top player. Not my ideal DM, but he's better than Xhaka and Elneny both.

— Gooner_esque (@winfieldlloyd) February 13, 2018
Is Ozyakup the one Arsene Wenger let get away?
Ozyakup would be a good signing dunno why we even let him go in the first place

— Jack Jones (@MrJackArsenal) February 13, 2018
I have seen Ozyakup compared to Xhaka, Elneny, Wilshere, Ozil…
In reality he is more a Santi type player.
Mkhi does not play deep like Santi does. Ozyakup is a very good option especially for FREE, versatile like Santi as well. Captain of Besiktas as well.

— Eric 🌹 (@EmperorEF) February 10, 2018