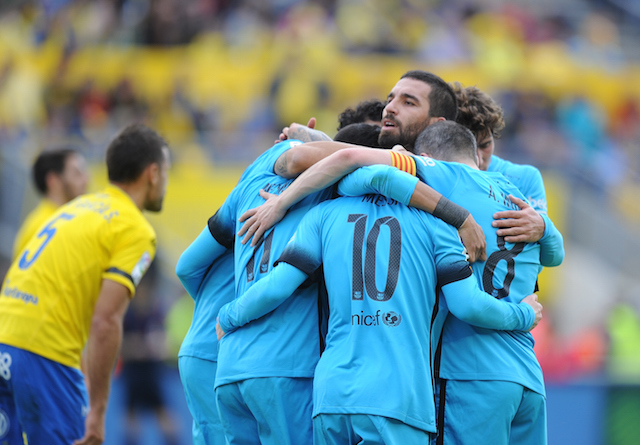 Arda Turan has enjoyed mixed reviews since joining Barcelona last summer. Goal recently decided to include him in their worst La Liga XI but does he deserve such stick?
The Turkish international joined the Spanish champions from Atletico Madrid last season but had to wait six-months to get his debut due to the FIFA transfer ban imposed on his club.
Turan spent most of his time on the sidelines adapting to the Barcelona way and it seemed to have paid off early on.
Barca won their first 16 games in which the 29-year-old featured in and while it would be a little far-fetched to claim Turan was solely responsible when you have the likes of Messi, Suarez and Neymar in the team but it would be unfair to underplay the role he has had either.
The team suffered a rocky patch soon after the defeat to Real Madrid crashing out of the Champions League and almost blowing the title race. Turan's form took a dip as did the rest of his teammates and he found playing time hard to come by. The bearded winger was given given just 46 minutes of playing time by head coach Luis Enrique in his last four league games. Considering Turan missed the first half of the season and was not 100 percent match fit this was of course perfectly understandable and we should not blow it out of proportion.
The bearded winger did end the season with a two goals and three assists in 810 minutes of La Liga football which is a pretty decent return but he did work assiduously in midfield making key interceptions and keeping possession with the highest passing accuracy on his team – 92.4 percent. Turan did however, have the lowest success rate for winning duals 39.9%-min (40 duels).
Turan offers Dani Alves cover playing on the left side of midfield when the Brazilian bombs forward but he has also shown flexibility in playing four different positions from midfield right to on the right and left wing.
The 29-year-old has managed to impress his manager carrying out his duties with no frills but he still needs time and perhaps more confidence to showcase his flair and attacking ability in the final third which has been perhaps the main criticism of Turan thus far.
Turan became the first Turkish international player to win the La Liga title for a second time – he also holds the record for the first Crescent-Stars player to win the league with Atletico Madrid. The Champions League eluded him once again and to run further salt in the wounds Atleti could lift the one trophy that he was yet to win. Turan actually joined Barcelona in the hope that it would increase his chances of winning the most prestigious title in Turkish football so it would be quite ironic if his former side went onto to be crowned champions of Europe.
The bearded winger has not had an outstanding season performance wise but it would be a tad hyperbolic to claim he has been awful. Turan has carried out his duties well and been a versatile member of Enrique's team. Next season will be the true test – if he stays of course. Turan will be well settled and have half a season under his belt.
See More
Barcelona Player Profile: Arda Turan – The Bearded Genius
Three reasons Arda Turan could be a success at Barcelona