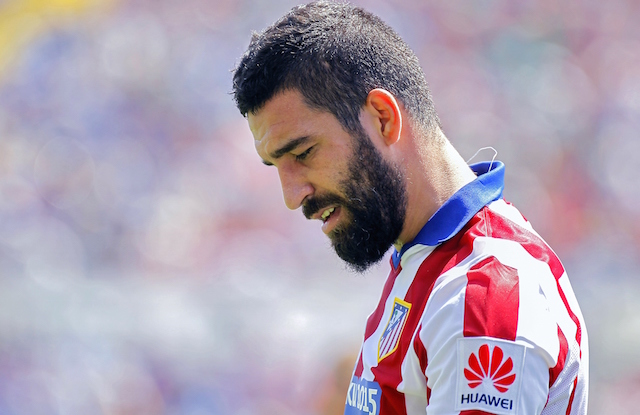 Arda Turan is keen on a Premier League move according to his agent Ahmet Bulut who confirmed talks without directly naming the teams involved.
Bulut's latest statement hardly comes as a revelation as he also made a similar statement last season and the year before but few – probably himself included – thought Atletico Madrid would become so successful in such a short space of time.
See More
Manchester United winger Nani expected to arrive in Turkey today
Three reasons Man Utd winger Nani could be a success at Fenerbahce
Turan decided to stay at Atleti longer than his agent had initially planned but he has confirmed currently being in talks with three Premier League clubs.
Bulut also stated that Turan would only accept a move to a club with Champions League football so that narrows down the list to four potential teams – Manchester United, Arsenal, Manchester City and Chelsea.
"I'm in discussion with three clubs, but i can't reveal their names, they are three of the best clubs in England and indeed in Europe," he told AS.
There is also the possibility of Bulut being in talks with Liverpool considering Turan's fondness of the Reds.
"I want to play in major leagues and my dream team is Liverpool," Turan revealed before leaving Galatasaray for Atletico Madrid in 2011.
Turan has been closely linked with Arsenal, Manchester United and Liverpool over the last few seasons.
All three clubs were reportedly in a a £30 million transfer race to sign the Turkish international back in March according to the Express.
The Turkish international has a contract with Atleti until 2017 and a €40 million release clause which could make prizing away the 28-year-old winger difficult.
Turan became the first Turkish born player to win the La Liga as Atleti won their first league title since 1996 last season and he has also lifted the Europa League, the European Super Cup, the Spanish Cup.