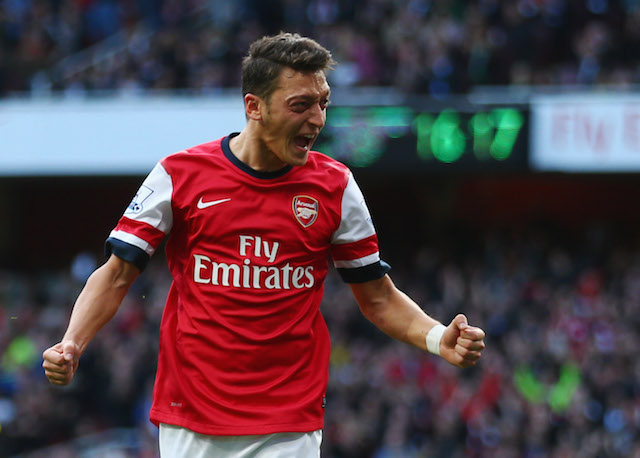 Arsenal crushed Chelsea 3-0 at Stamford Bridge to extend their winning streak in the league to four games.
Mesut Ozil in particular put on an impressive display scoring his sides third goal in what was the Gunners first win over Chelsea since 2011.
The North London based outfit scored three goals in the opening 40 minutes and Ozil received widespread praise for his performance.
We took a look at how Arsenal fans reacted to Ozil's display on social media.
Ozil's goals went down a treat but the no-look pass almost crashed the internet.
Ozil no look pass 🔥
And the eyes 👀👀 pic.twitter.com/aiRmkX96v4

— TouchofÖzil (@Touchofozil) September 24, 2016
Ozil is starting to become something of a cult figure among Arsenal fans.
You see when Ozil tapped the Arsenal badge… That's the closest I've been to being in love. Honestly.

— Kenneth (@KennethBrav) September 24, 2016
There was a lot of Ozil love across social media after the game.
If you hate Mesut Ozil just remember Mesut Ozil backwards is tuseM lizO. It doesn't make sense just like your opinion!

— Arsenal Till I Die (@Bxllerined) September 24, 2016
Ozil has well and truly quashed the notion that he is not a big match player.
Ozil has now scored against Chelsea, United, Munich, Spurs and Liverpool.

Apparently he goes missing in big games though 🤔

— 6'2 (@Mta_1991) September 24, 2016
Ozil is starting to really look like value for money, so much so that this tweeter feels Arsenal should pay Real Madrid extra on top of the 42.5 million the club already paid for his services.
We should send Real Madrid another £30million for Ozil. We mugged them right off.

— Tom Gordon (@GoonerGordo) September 24, 2016
The beast was impressed!
I've watched this like 20 times now. Ozil no look pass. 🔥🔥 pic.twitter.com/lKtMPJxFXu

— Danny Welbeck (@WelBeast) September 24, 2016
Hah!
Nothing special about Ozil's no look pass.
Rooney doesnt look where he passes every week tbh

— Römeo (@Arsenal490304) September 25, 2016
Let the trolling begin!
We're now called Arsena. We gave Chelsea the L

— ♛AÖ♕ (@AssistantOzil) September 24, 2016