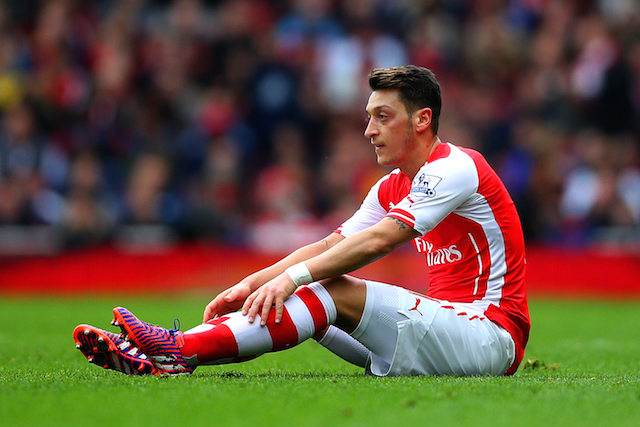 Arsenal star Mesut Ozil started for Germany in their 2-0 defeat against France in the Euro 2016 semi-final last night.
We took a look at how Arsenal fans reacted to Ozil's display on social media.
Ozil had pretty good stats just as he has throughout the tournament. The Germany international of Turkish origin had an impressive 91 percent pass accuracy but was unable to add to his assist or goal tally over the 90 minutes.
@mo_rea11 Mesut Ozil's game by numbers vs. #FRA

91% pass accuracy
5 take-ons
3 crosses
2 shots
1 chance created pic.twitter.com/nPCHuZPRYb

— Squawka Football (@Squawka) July 8, 2016
Ozil had an outstanding tournament and was one of the players of Euro 2016 according to some fans.
On a different note: Feel sorry for Mesut Ozil. Heads and shoulders above every single player on the field for the entire tournament.

— FC Bayern Fan TV (@MiaSanMiaTV) July 7, 2016
The main talking point was Ozil being brought to tears by Germany's exit from Euro 2016.
Ozil's Arsenal teammates consoling him. pic.twitter.com/UVZ31CK9bX

— Cristian Nyari (@CrisNyari) July 7, 2016
Shots fired!
Don't worry Ozil… you should be used to finishing in the top 4 pic.twitter.com/4ekl1jGw2E

— Dion Farnes (@DionFarnes) July 8, 2016
An assist reversal going on here.
Plot twist, someone else assists Ozil pic.twitter.com/BmplHMgK9S

— SemperFiUnited (@SemperFiUnited) July 8, 2016
Poor Takuma Anaso… he's been mocked ever since joining Arsenal despite most fans having never watched him play.
When Ozil find out Arsenal have signed some Takuma anaso pic.twitter.com/WY4foDvzJd

— Nishant (@nishantafc) July 7, 2016
Imagine if this France team had Ozil?
When you wish you had Ozil in your team. pic.twitter.com/VgmdTTS00O

— Wenger = Football (@MesutOzilClass) July 7, 2016
At least two Arsenal players will make it to the final.
Ozil is looking at Ground like he ruined his life in so many ways. pic.twitter.com/h8veNXfWZV

— Martin (@martinbrophy7) July 7, 2016