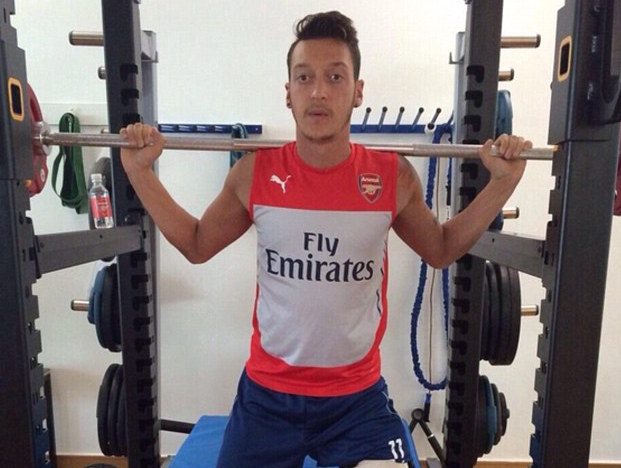 Arsenal playmaker Mesut Özil revealed that despite developing an addiction to pumping the iron he has no desire to become the next Arnold Schwarzenegger.
Özil fans may be disappointed to discover the Arsenal star will not be taking part in any Mr Universe competitions any time soon but his work in the gym has apparently increased his speed.
"I feel like I'm more robust now. I'm not going to the gym to get bigger muscles or to become stronger. It's the opposite – I want to become quicker and more explosive. I can see on the pitch that it helps me and that's the reason why I'll carry on with it. I'm continuing to have extra training sessions because I have the feeling that it helps me," Özil told the official Arsenal website.
See More:
Arsenal News
Turkish Football Abroad
Mesut Ozil
The 26-year-old has however, revealed that he will not be getting rid of his gym membership and that he cannot get enough of the workout lifestyle.
"I'm going to do everything I can to make sure that my old injury doesn't come back. I feel fresher on the pitch now. Maybe before, I would sometimes feel slightly more tired or have cramps but now I feel that changing my diet, doing extra sessions and having plenty of massages has really limited that," he added.
The 26-year-old kept his social media followers updated with regular pictures from the gym during his time out injured from October until the end of 2014.
Özil has covered more distance, scored more goals, provided more assists and improved his sprinting since starting his workout regime according to the official Premier League website.
The World Cup winner is currently on summer holiday before returning to London for pre-season training.