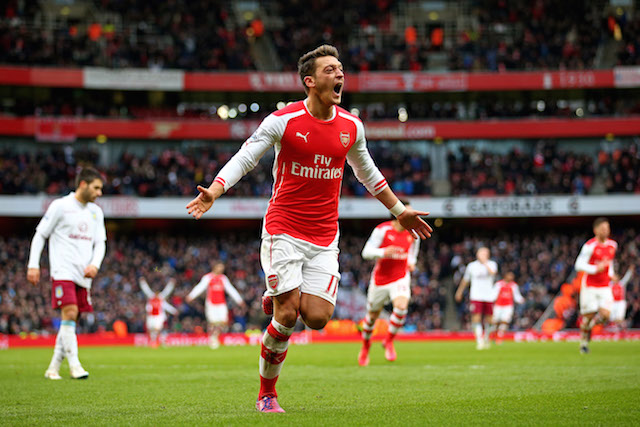 Arsenal's star playmaker Mesut Ozil has been likened to the Gunners legend Dennis Bergkamp by the clubs manager Arsene Wenger.
Wenger spoke about the 27-year-old playmaker during the post-match press conference following Arsenal's 2-0 win over Bournemouth.
"I believe he is also improving and getting better to reach his potential, consistently going upwards," Wenger stated at the press conference.
"Look at the numbers on the assists and they speak for him.
"He reminds me of Bergkamp. Bergkamp was more of a goalscorer, Ozil more assists. But now he's scoring too."
Bergkamp won three Premier League titles during his time at Arsenal after joining from Inter in 1995.
Ozil provided his 16th assist of the season in the win over Bournemouth and scored his fifth league goal. The 27-year-old has provided the highest number of assists in the league – 16 in 17 games.
Arsenal have ended the week on top of the table following Leicester City's 0-0 draw with Manchester City. The Gunners take on Newcastle United this weekend.
See More
5 little-known facts about Barcelona star Arda Turan
Is Mesut Ozil finally showing his true colours at Arsenal?