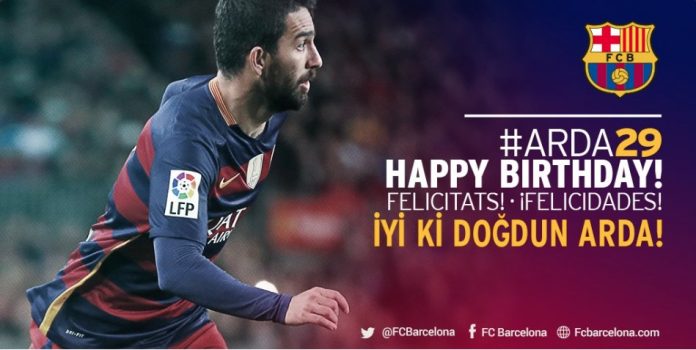 Arda Turan celebrated his 29th birthday with a victory against former side Atletico Madrid to help extend Barcelona's unbeaten run to 25 games.
Barca have in fact won all eight games since Turan made his debut at the start of the month scoring 25 times and conceded just five goals in the process.
Turan has settled in remarkably fast at Barcelona and won his teammates as well as the fans as was evident from all the birthday messages he received.
We took to the social media channels to take a look at some of his birthday greetings.
Turan was of course celebrating his birthday playing against his former side in this top of the table clash as was brilliantly illustrated below.
Today is Arda Turan's birthday and he's celebrating it by playing against his former club in one of the biggest matches of the year

— Ahmad (@ahmadf_o) January 30, 2016
Turan's teammates and the clubs official Twitter account all sent their best wishes.
Happy birthday my brother!!🎉🎉🎉 Wish you all the best great 👊🏾 @ArdaTuran pic.twitter.com/4yjL2aF8yf

— Rafinha Alcantara (@Rafinha) January 30, 2016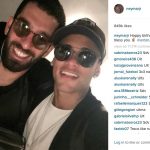 Happy 29th birthday, @ardaturan! Use #Arda29 to congratulate him! pic.twitter.com/Hs3NpG5GgF

— FC Barcelona (@FCBarcelona) January 30, 2016
The official UEFA Champions League Twitter account also joined in on the fun and asked fans for their best Turan moment.
Happy birthday @ArdaTuran. The @FCBarcelona & @MilliTakimlar man is 29 today. Tell us your best memories of Arda. pic.twitter.com/kyx55IIR2g

— Champions League (@ChampionsLeague) January 30, 2016
As you can probably have guessed the show throwing incident was brought up.
https://twitter.com/_Samperred/status/693430345027354624
One Tweeter claimed Turan must have got beat a few times by his mother in the same way – apparently being hit with a shoe is a popular method of disciplining kids among Turks.
https://twitter.com/yankialkaya/status/693431033279160320?ref_src=twsrc%5Etfw
This brilliant juxtaposition comparing a young Turan as a Galatasaray ballboy with the Turkish international as a Barcelona star really stood out.
@ArdaTuran Happy Birthday pic.twitter.com/W0RBNvoxnP

— A D I L (@Barzaboy) January 29, 2016
And yet more boot jokes…
Throw birthday cake instead of boots tomorrow @ArdaTuran

— XH6 (@XaviAssist) January 29, 2016