Arda Turan sent a shout out to his Brazilian friends today on his Instagram account.
Turan shared a picture training alongside Barcelona teammates Dany Alves and Neymar but also included Atletico Madrid star Felipi Luis and Miranda in the caption.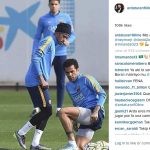 Neymar scored his third hat trick since joining Barcelona in the 5-2 win over Rayo Vallacano today.
Turan was not able to play due to the FIFA transfer ban that is currently imposed on Barcelona but the reigning La Liga champions are pushing the Spanish Football Federation to allow the registration of the bearded winger to go ahead.
Under Spanish Football Federation regulations a player with a long term injury which in this case happens to be Rafinha can be replaced by an unregistered player i.e. Turan.
Turan played a key role in Turkey reached the Euro 2016 competition over the international break starting in both the Czech Republic and Iceland games.
The FIFA transfer ban imposed on Barcelona does not apply to international football.
See More
Arsenal boss Arsene Wenger is happy with Mesut Ozil says agent
Man Utd legend David Beckham is Barcelona star Arda Turan's role model