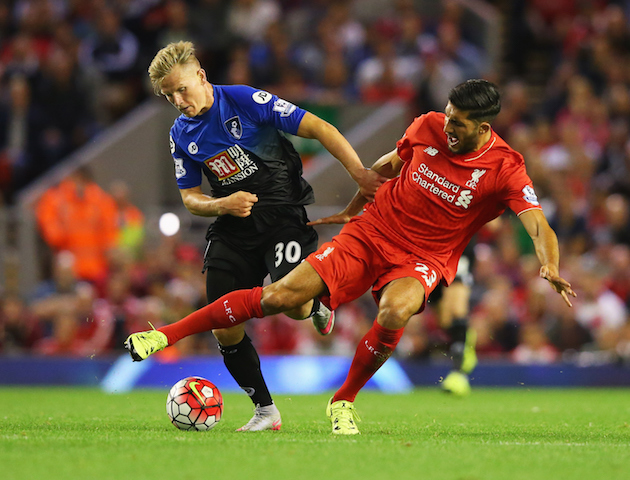 Emre Can played as staring role in Liverpool's decisive 4-1 victory over Manchester City in the Premier League.
The young midfielder started despite enduring a difficult international week with the Germany national team.
The Reds were 3-0 up after just 32 minutes but were pegged back when Aguero scored from range shortly before the break. However, Martin Skrtel scored the final game of the game giving the visitors a 4-1 win.
The Premier League leaders were unbeaten at home against the Reds in their last six Premier League games and had won 12 of their last 13 home matches before yesterdays defeat.
Liverpool moved up to ninth place with 20 points in 13 games following yesterdays victory. The Red's take on Bordeaux in the Europa League on Thursday and host Swansea City at Anfield next weekend.
Can has scored one goal in 18 appearances for Liverpool this season.
Following the game we took to Twitter to see how Can's performance went down with Liverpool fans. Safe to say the Red's fans were impressed with the 21-year-old after yesterday's show.
https://twitter.com/Memz_Dogi/status/668196334600613888
For Emre Can to have the week he did, to then come and give a performance like that, shows he's made of something special.

— Ritchie (@JohnRitchie84) November 21, 2015
That was Emre Can's most assured midfield performance to date. Hendo is gonna struggle to get back in at this rate. #LFC

— Scott McAuley (@toshenhoff) November 21, 2015
Emre Can carried the midfield today on his own. Great all round performance from him finally

— M (@MohitM30) November 21, 2015
Emre Can was unbelievable, completely dominated City's midfield, unreal performance for a 21 year old

— Stephen Taylor (@SteTaylor1996) November 21, 2015
Really hope Emre Can pushes on from that performance, was absolute class yesterday. Dominated City's midfield

— Kieran (@Kieran_LFC10) November 22, 2015
The midfield trio of Emre Can, Lucas Leiva and Milner snapped into tackles and gave the Reds a platform to wreak havoc. (James Pearce)

— Phil Coutinho (@LfcNo10) November 21, 2015
Emre can was fantastic. He's the future of our midfield. He did get deserved criticism but responded excellently.

— FirmLFC (@FirmLFC) November 21, 2015