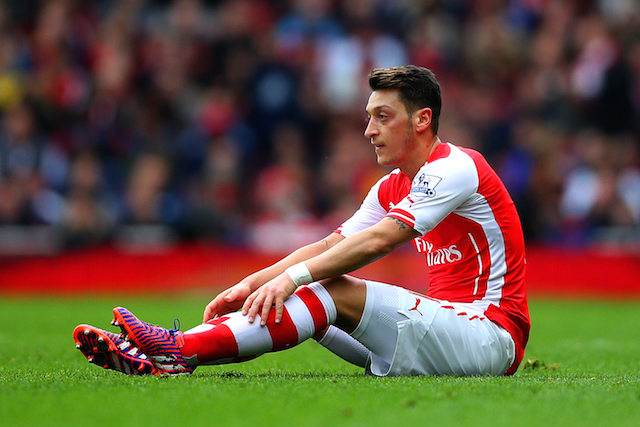 Arsenal succumbed to a 3-2 defeat at the hands of Manchester United yesterday afternoon.
Mesut Ozil was unfortunate to be on the losing side after providing and assist and scoring his sides second goal.
The Germany international create a grand total of six goal scoring opportunities more than any other player over the course of the 90 minutes but only one was converted.
Following the game we took to social media to see how Ozil's performance went down with fans. The Germany international received a positive reaction from fans for his display despite his sides defeat.
A large portion of Arsenal fans went as far to say that their side is fortunate to have Ozil and that the former Real Madrid man may opt to leave the club in July.
Mesut Ozil deserves so much better than this garbage.

— Arsenal News (@__arsenalnews_) February 28, 2016
Mesut Ozil was the only one cared today's game for Arsenal and had influence. He's world class and deserves better, Should go to a superior.

— Bulhan (@Bulhanov) February 28, 2016
Mesut ozil was, again, at it. Scored one assisted one. That man, if assisted by few others, can win us the title. #afc

— Mehul 🙂 (@Mehul_10) February 28, 2016
Mesut Ozil should find another club.he is world class.

— Boniface Koome Snr (@BonnieKoome) February 28, 2016
mesut ozil is now the one showing hunger and he seems desperate to win the league shouting and pushing at everything/everyone…

— Arsenal info (@OnlyOneArsenal_) February 28, 2016
Did you guys see Mesut Ozil get fustrasted at the end of the game? He is going to leave for the same reasons that Van Persie, Nasri etc left

— Sicelo (@SiceloDumakude) February 28, 2016
arsenal doesn't deserve @Mesut_Ozil,, he has a strong winning mentality and a great football attitude

— Kimson Helle (@KimsonHelle) February 28, 2016
Ozil has now created 111 chances in the Premier League this season – the highest in the league.
The 27-year-old now has 18 assists in the league for Arsenal – the highest in the Premier League this season.
Arsenal ended the week five points behind league leaders Leicester City following the defeat against United.
See More
Three reasons why Tottenham should sign 'new Mesut Ozil' Yunus Malli
Three reasons Liverpool should keep Lazar Markovic