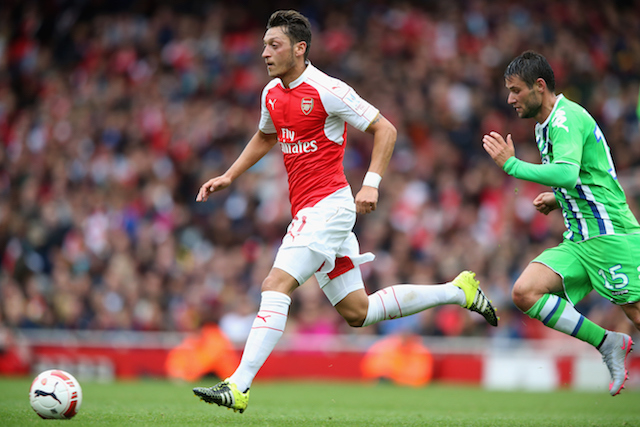 Mesut Ozil has stated that he believes that Arsenal can defeat Olympiakos by a two goal margin and qualify to the next round of the UEFA Champions League.
The Gunners take on the Greek Super League champions at the Karaiskakis Stadium tomorrow at 19:45 (GMT).
Ozil went onto say that while it will be tough he believes his side have the quality to record a big win away from home,
"I have been to Olympiakos before having already qualified,"Ozil was quoted as saying by ESPN.
"This time we go having to qualify. It's tough but we have to believe we can do it, and I believe we can do it. We have a chance to make right what we haven't done right until now.
"How big the chance is I don't know, but we can do it. We need to win. One advantage is that the task is very clear."
Ozil provided his 12th assist for the season for Arsenal's opening goal against Sunderland on the weekend.
The 27-year-old playmaker received a rating of 8.5 from WhoScored making him the man of the match made five key passes and took 122 touches on the ball during the game.
Ozil has scored four goals and provided 12 assists in 20 appearances for Arsenal this season.
See More
5 little-known facts about Barcelona star Arda Turan
Galatasaray set to make bid for Chelsea star Diego Costa