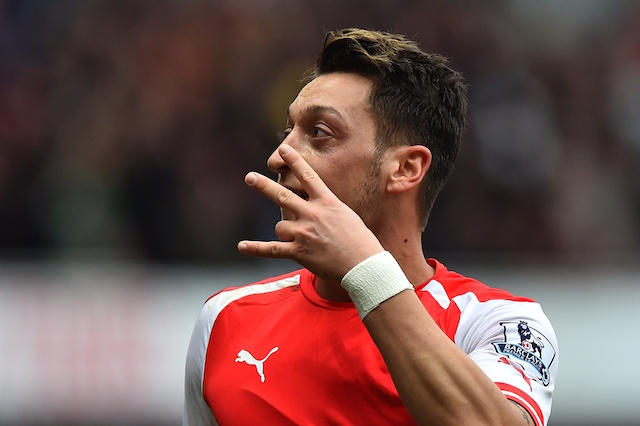 Arsenal have released a video to their fans celebrating Diwali starring Mesut Ozil alongside his team-mates. During the video Ozil – who is wearing a kurta – writes a message to fans in the air.
The video has gained affection from Arsenal fans on social media.
Ozil wearing a Kurta for Diwali celebrations 😍

— Syed Abbas (@AbbasGooner) November 11, 2015
Arsenal's Vid wishing everyone a Happy Diwali has got to be the cutest thing I've seen.
Ozil in a kurtha is everything

— Alix (@AlixDramaQueen) November 11, 2015
Arsenal's Happy Diwali video is the GOAT. Ozil looks so classy in traditional Indian wear.

— Free Arsenal (@EccentricFella) November 11, 2015
Özil has been hitting the headlines for all the right reasons recently after providing 10 assists in 11 league games this season.
the 27-year-old has provided the most assists in Europe's top five leagues – England, France, Italy, Spain, France. In fact no other player in the Premier League has ever setup goals in six consecutive games.
Özil scored a total of five goals in all competitions last season and netted seven times the over the 2013-14 campaign. The highest number of goals the 27-year-old has ever scored in a single season is 10 for Real Madrid and for Werder Bremen.
The World Cup winner only has two goals this season but they did come against Manchester United and Bayern Munich both of which ended in victories for the Gunners.
See More
Four reasons why Liverpool star Emre Can will succeed under Jurgen Klopp
Mesut Ozil is the reason Arsenal are top of the table says Thierry Henry