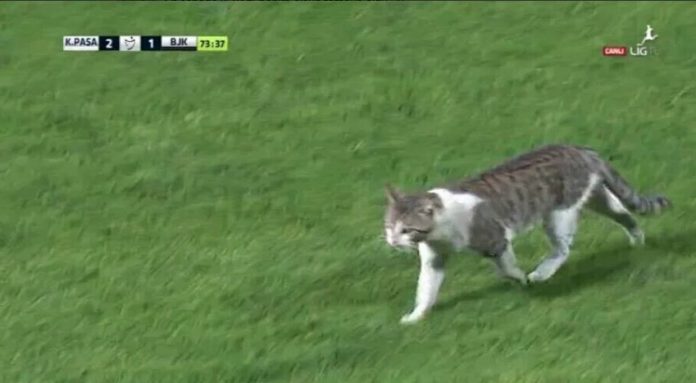 There was an unusual pitch invader in the Kasimpasa v Besiktas game last night. We are all used to the occasional streaker but it was not an exhibitionist who stopped the match – it was a cat.
The feline invader decided to hold up play and take a stroll around the pitch before running over to Jose Sosa at the corner stand.
The cat could very well end up being adapted as the official Kasimpasa pet considering they went onto beat their Istanbul rivals in the derby.
Kasimpasa fans campaigned for the cat to be made the new mascot of the club following their 2-1 win over league leaders Besiktas.
As anyone who has visited Istanbul will know cats are very popular in the city and can be spotted on just about every street corner.
Most major clubs in Istanbul have an animal as their mascot – Besiktas are the Black Eagles, Galatasaray are the Lions and Fenerbahce are the Yellow Canries – however, Kasimpasa do not have an animal representative.