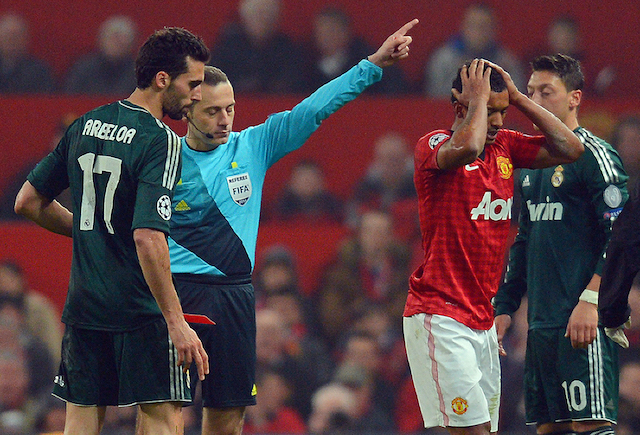 Turkish referee Cüneyt Çakır controversially sent off Luis Nani while playing for Manchester United during their 2-1 Champions League defeat against Real Madrid back in 2013.
The decision was hotly debated with pundits both criticising and praising the decision but was put under the spotlight yet again following the Istanbul derby yesterday.
Fenerbahçe ended up beating Beşiktaş 2-0 at the Şükrü Saracoğlu stadium but the main talking point after the game was the referee.
Beşiktaş defender Andres Beck made a high footed challenge on Volkan Şen in the 38th minute in what looks eerily similar to the Nani incident.
However, this time Çakir did not brandish a red or a yellow or even award a foul. The replays show Şen running into Beck who did have a raised foot but was physically unable to get out of the way of the Turkish international.
Çakır trended for hours in Turkey following the incident but there was more. Beşiktaş fans argued that Fenerbahçe should have had Caner Erkin and Volkan Şen sent off.
Şen raised his hands and appeared to push Beşiktaş midfielder Jose Sosa in the face for which he was booked.
Volkan Şen hakemin önünde yumruk atıyor ama hakem görmezden geliyo kırmızı kart yine yok hakemler Besiktasi kolluyo pic.twitter.com/l6eOigTqj6

— Furkan (@q7furkanglsn) February 29, 2016
Black Eagles supporters also felt Erkin should have been sent off for a second yellow card offence for a number of challenges including this one.
https://twitter.com/TSerdarS/status/704378453567660033
Remarkably both sides ended the game with 11 men but as is usually the case in big games in Turkey the main talking point was the referee 'taking sides'.
Nobody seemed very interested in the actual game instead the post-match debate descended into both camps of fans inventing conspiracy theories. The Beşiktaş faithful claimed Çakır was supporting Fenerbahçe while Yellow Canaries fans argued the opposite.
Conspiracies aside Fenerbahçe ended the week in first place overtaking Beşiktaş who dropped into second. The Eagles do however, have a game in hand and will overtake the Canaries should they beat Trabzonspor.
See More
5 facts about Arsenal v Barcelona referee Cuneyt Cakir
Cuneyt Cakir named the world's third best referee