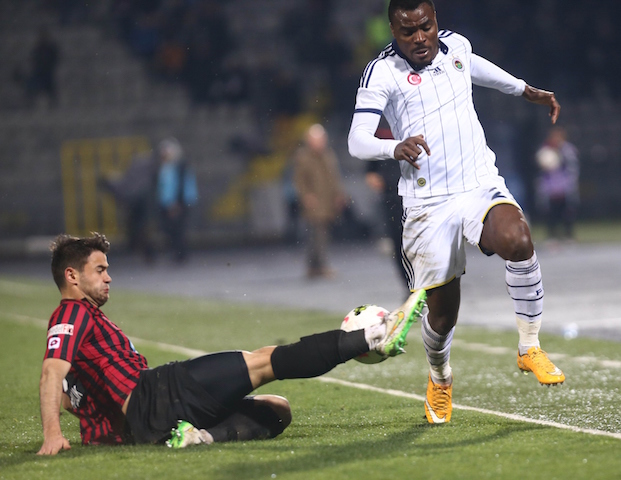 Emmanuel Emenike started his second game for West Ham in their 1-0 victory over Sunderland that saw the Hammers move into 5th place.
The Nigerian international could not however, replicate the same performance against Blackburn in the FA Cup that saw him bag a brace on his full debut.
In fact Emenike did not even manage a shot on target but West Ham did win and I guess that is what really matters but we will let social media be the judge of that.
Most West Ham fans seemed quite understanding and many underlined that Emenike was left isolated.
https://twitter.com/Lxnzini/status/703580510199681024
Miss Sakho ngl, Carroll is shit & Emenike was too isolated

— cavani (@regsldn) February 27, 2016
Emenike did however, also get criticised for his performance and to be fair he did not really contribute a lot to the team on the day.
Emenike was largely ineffective, looked lost most of the time. Rightly yanked off for Andy Carroll after 59mins #WHUSUN

— iBD10 (@booday10) February 27, 2016
Another understanding West Ham fan revealed that it is still too early to judge Emenike and considering it is just his second start for the club he has a point.
Emenike has been quiet apparently this game. I reserve judgement until I see it but he just needs to get fit imo.

— Mikespace Online ™ (@MikespaceOnline) February 27, 2016
Emenike supporters underlined that he should have stayed on instead of getting subbed for Carrol especially when Sunderland threw men forward as he may have been more effective on the counter attack.
@MySlidingTackle carrol was shit, emenike should play , especially when the team make a counter attack!

— Gregorsamsa (@serkanslv) February 27, 2016
All that really counts is of course the 'Who is better.. RT for X FAV for Y' tweet. The unscientific poll saw Emenike the clear winner over Defoe and that is all that matters in the world of Twitter.
RT for Defoe
LIKE for Emenike#WHUSUN pic.twitter.com/YpBkdEj7Ma

— Football Battles (@FootbaIIBattIes) February 27, 2016