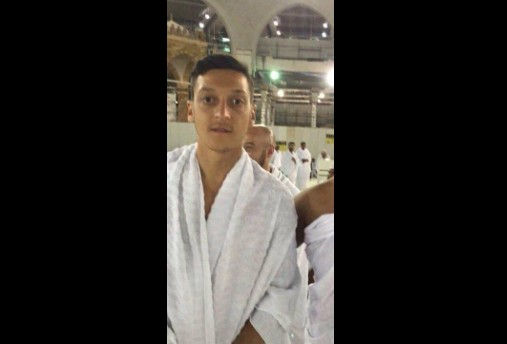 Arsenal star Mesut Ozil concluded his middle east tour with a pilgrimage to Mecca in Saudi Arabia.
Mecca is regarded as the holiest city in the religion of Islam and many Muslims try to make a pilgrimage also known as the Hajj is able to do so.
نجم المنتخب الألماني لكرة القدم ولاعب نادي آرسنال الإنجليزي "مسعود أوزيل" مؤدياً مناسك العمرة.#mesutozil pic.twitter.com/ehXxve5UZn

— الشارقة للأخبار (@Sharjahnews) May 19, 2016
Ozil was born in Germany and represents the national team at international level but he is of Turkish origin and is a muslim.
The Arsenal playmaker revealed that he prays before his matches. Talking to the Berlin-based daily Der Tagesspiegel, he said, "I always do that before I go out [on the pitch]. I pray and my teammates know that they cannot talk to me during this brief period."
Ozil also recently revealed that his modest background and his faith were the driving factors behind his charitable works.
"I want to help people in need but I don't want people to know I'm doing it," he told The Times.
"Usually, I don't like talking about it. I come from a background where you don't show off the good things you do. It's modesty. 
"My aim is helping kids. Kids are the future. I love children. I'm thinking of my own childhood. I know where I'm from. If I wanted something, I couldn't get it. Life wasn't easy."
Ozil also visited Dubai and played a charity game in Jordan to help child refugees fleeing the conflict in Syria.
The World Cup winner's family herald from the town of Devrek in the Zonguldak region in north western Turkey.
Ozil is fluent in Turkey are regularly visits the country of his parents where he is a well known celebrity and television personality.
See More
3 things we learned about Mesut Ozil after Arsenal win over Everton
Arsenal boss wants Mesut Ozil to score goals like Thierry Henry