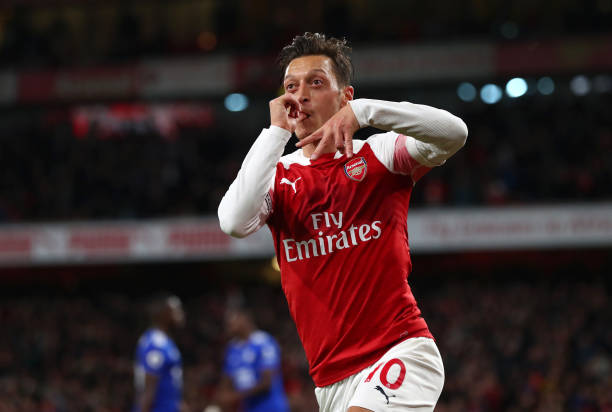 Arsenal beat Manchester United 2-0 at the Emirates Stadium in the Premier League on Sunday.
The Gunners ended up overtaking United and moving into 4th place in the league table on the back of the victory.
Mesut Ozil has struggled for regular playing time in 2019 but it appears he has finally been able to win over Unai Emery.
The playmaker of Turkish origin has started the last two games and featured consistently this month.
The 30-year-old started against United and helped his side become the first side to beat United under the stewardship of Ole Gunnar Soljskaar.
Ozil took to Twitter afterward to celebrate the victory and he could not resist taking a dig at Jesse Lingard.
The United midfielder had scored on his last two appearances at the Emirates, celebrating with dance moves on both occasions, and labeled the stadium his "dancefloor" on Instagram.
Ozil fired back on Sunday, tweeting: "Dancefloor huh!? Superb performance! Brilliant result! Thank you Emirates Stadium! Proud to be a Gunner!"
Dancefloor huh!? ??? Superb performance! ? Brilliant result! ? Thank you Emirates Stadium! ?? Proud to be a Gunner! ❤❤ #YaGunnersYa #M1Ö #WeAreTheArsenal @Arsenal pic.twitter.com/EHn7CoHh2O

— Mesut Özil (@MesutOzil1088) March 10, 2019
The playmaker was given a standing ovation when replaced by Alex Iwobi in the second half.