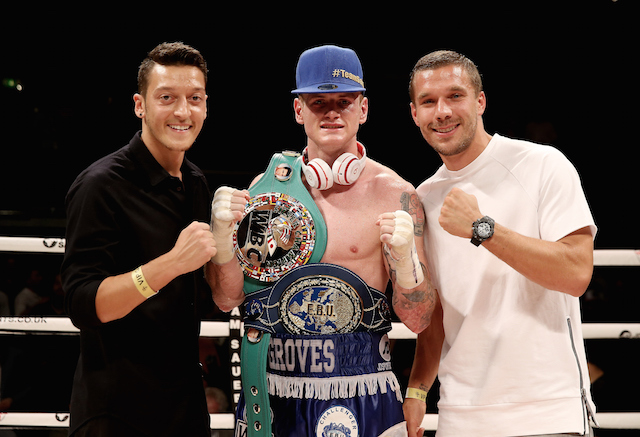 Arsenal star Mesut Ozil has revealed which of his Germany national teammates he is closest to in a Q&A session on Twitter.
Ozil stated that Galatasaray striker Lukas Podolski, Jerome Boateng and Semi Khedira are his 'bros' in the Germany national team.
Podolski, Khedira and Boateng are good bros. ?? #askMesut #ViveLaMannschaft https://t.co/QnG6lppOY0

— Mesut Özil (@MesutOzil1088) June 2, 2016
Podolski and Ozil did play together the season before last at Arsenal but were split apart last summer.
The German striker joined Turkish giants Galatasaray last season and went onto bag 16 goals in all competitions and also scored the winner in the 1-0 victory over Turkish Cup final against rivals Fenerbahce last week – ironically Ozil supports Fenerbahce in Turkey.
Podolski managed to do what his Arsenal teammates failed this season in winning a trophy and the icing on the cake was that he scored the winning goal.
Ozil, Podolski, Liverpool star Emre Can and Besiktas striker Mario Gomez posed for a picture during training yesterday.
Perhaps all four will end up becoming the new 'bros' in the Germany national team this summer.
See More
Arsenal fear Mesut Ozil departure as contract talks put on hold
Arsenal keeper Petr Cech praises Mesut Ozil's work rate