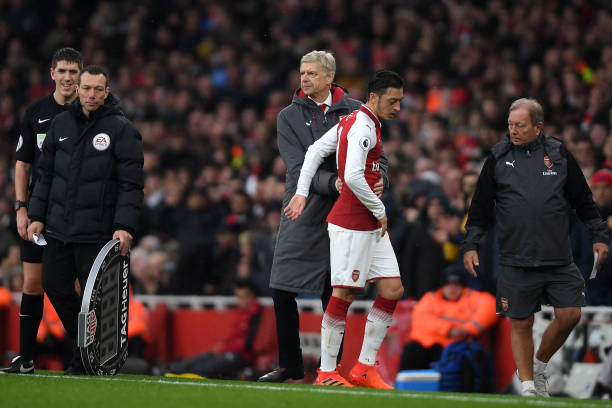 Arsenal Transfer Boost As German Journalist Does Not Think Ozil To Man United Is 'Credible'
Arsenal star Mesut Ozil has been closely linked with a move to Manchester United in the press but one journalist is not buying it.
German football expert Rafael Honigstein does not believe Ozil joining United is 'credible'.
Honigstein revealed that Ozil would prefer to stay at Arsenal.
"I don't think there is necessarily an option in the Premier League available, I don't buy all these stories about Mourinho and Man United being interested in him, I just don't think that's credible," he told ESPN FC.
Instead Honigstein claims the midfield maestro wants to sign a new deal with the north London club.
"I think his preferred choice is very much to stay at Arsenal," he added.
Ozil would of course have to sign a new contract deal if he really is intending on staying.
Unless the playmaker of Turkish origin reaches an agreement over an extension he will be a free agent at the end of the season.
Honigstein revealed that Arsenal are still yet to decide if they want to strike a deal that is deemed attractive enough for Ozil.
"It's down to him to make himself indispensable or at least attractive enough to get the kind of deal that he wants," he added.
"I think Arsenal are still sort of weighing up their options, they perhaps haven't pushed hard enough as he and his advisors would have liked.
"A different situation to Alexis Sanchez, who has very much made up his mind he is going to be off."
Honigstein went as far as to claim that he does not think Ozil has better options than Arsenal right now.
"Ozil still wants to stay and I'm not sure he will find a better setup for him," he said.
"Then you have to look at going back to Spain where he's already been at Real Madrid, that makes things complicated or back to Germany where I don't think there is much of a market for him right now.
"So I think he wants to say and I think Arsenal in the end will decide that he is, even at a higher wage, still a cheaper option to sign for free effectively than looking for a replacement."
The 29-year-old has been at Arsenal since a £42.5m switch from Real Madrid in 2013.
Ozil has won three FA Cup trophies since joining the Gunners.
The Arsenal star has three goals and five assists in all competitions this season.
Ozil is likely to feature for Arsenal when they take on Liverpool in the Premier League of Friday at the Emirates.